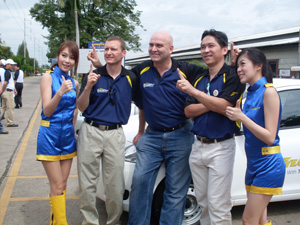 Richard Fleming, MD Goodyear ASEAN and Thailand in the centre with Jenner Powell-Commercialization Director, Consumer Tyres Asia Pacific(Left) and Kongkiat Teekamongkol- Business Operations, GM Goodyear (Thailand) just before the test drive
Bangkok -- Creating an industry benchmark in terms of mileage, global tyre maker Goodyear says its latest innovation in their product range- the DuraPlus tyre – can deliver 100,000km and more. The ASEAN launch of DuraPlus kicked off in Bangkok last week, where journalists from the region as well as locally were familiarized over a 2-day period with the technology behind its newest product.
"Consumers in the ASEAN are very demanding and if we get it right in this region, we can be successful anywhere," said Richard J.Fleming, Goodyear Managing Director, ASEAN and Thailand who emphasised the importance of launching in the region. With Asia's passenger value segment continuing to grow and doing so at a rate of 8% per year, the company says many new innovations are being generated to satisfy this segment which was hungry for a longer lasting tread.
"Consumers are looking for value and with Goodyear DuraPlus, consumers are able to make each mile count," said Dan Smytka, Vice President, Consumer Tires, Asia Pacific, adding that the tyres were designed around specific consumer needs in the passenger value segment. Having been designed for Asia the tyres promise to withstand some of the region's most sever road conditions.
At the heart of the DuraPlus tyre is its Tredlife technology which gives the tyres a longer lasting tread and a lower rolling resistance. The key features of this new technology include a wide cavity shape, which increases the tires footprint while the increased volume of rubber on the tires increases the amount of wearable rubber and finally the carbon based tread compound of the tires allows for a higher resistance to frictional wear. The tyres have been tested on the company's tracks in France, Luxembourg and on open roads in Thailand against leading industry competitors.
"Everybody remembers who was first, today Goodyear is first with 100,000km and no one has done this in Asia before," pointed out Mr. Fleming. Over a 100 engineers, physicists, chemical experts and tire evaluation specialists worked extensively for a year to develop the tyre technology that would ultimately provide a mileage increase without compromising on the tire's safety qualities.
In a bid to demonstrate the prowess of the tire, the company provided journalists with vehicles for a test drive equipped with competitor as well as DuraPlus tyres all of which had their tread measurement done by volunteers. The convoy of test driven vehicles was replete with police escorts and an ambulance as seven pit stops were made along a route which clocked in over a 100km.
This was just the beginning of an intensive demonstration where the vehicles will continue to run non-stop for a further seven weeks till 1.6mm of a tyre tread is left. At which point the tyres will be analysed against its competitors.
At the conclusion of the test drive, further demonstrations were held such as the dry braking test which compared the tyre breaking distance between Duraplus and its competitors where the DuraPlus tyres displayed a shorter braking distance. Other tests included interior noise as well as rolling resistance.
Sri Lankan consumers will also be able to get a piece of Tredlife technology when Goodyear launches DuraPlus later this month.