A "Samudradevi" Chinese built power set now being used on the coastal line, has drawn mixed reactions from commuters, with opinions divided on its relatively high speed, fuel efficiency and an apparent lack of proper seating and toilet facilities.
However railway authorities maintain that the new service has proved very profitable to the Railway Department. General Manager Railways Dr. Lalithasiri Gunaruwan told The Sunday Times that a majority of railway commuters are pleased with the new power set and passengers who complain about it are those opposed to the development in the country.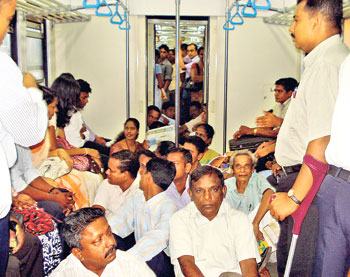 Our cameraman S. Siriwardana took this picture of passengers on the new "Samudradevi" train on their way to work. The picture shows commuters seated on the floor and a disabled person standing. The GMR told The Sunday Times the new service took passengers to their destination faster. Passengers appreciated the faster service but said seating was problematic and the train lacked toilet facilities
"The majority have a favourable opinion of the new service. The train reaches its destination with about 40 minutes to spare, as compared to the time it took previously. The whole journey takes about two and a half to three hours. This new power set saves the department 300 litres of diesel everyday" he said.
Several passengers however told The Sunday Times that while they agreed the train was faster than usual, they preferred the old one. They said the lack of toilets was a major constraint. Additionally the long, bench-like seats on either side facing each other were rather uncomfortable.K.W. Lalith, a passenger who travels daily to and from Ambalangoda, said he favoured the new power set as it took him home much faster.
"I like this power set. The ride is much quicker. The train doesn't stop everywhere. The service is disciplined. However, there is an issue with the seats," he said.
Prasad Nilantha, a fellow passenger from Hikkaduwa said it took him home earlier than usual.
"This train is 20 minutes faster than the old one, despite the fact that it leaves ten minutes late from Maradana," he said.
Meanwhile GMR Dr. Gunwaruwan claimed it was only a particular group of passengers who were complaining. These passengers had taken over particular compartments, reserved seats for their friends and refuse to give them up to other passengers. Some even play cards in the compartment," he said.
He said that there were issues with couples who misbehaved but added that this had nothing to do with the new seating arrangements. However, Mr. Lalith, who himself plays cards with his fellow passengers, denied their activities hindered other passengers.
"Yes, we play cards. But that doesn't cause problems to anyone. We play standing. We never use the seats, and we don't play all the time, only if we get a chance," he said. Lalith, Nilantha and a group of friends and colleagues always take the same compartment everyday, swapping jokes and sharing their snacks.
"We always share our seats. We even offer our seats to people we don't even know halfway through the journey. All we care about is getting home on time, and overall, we're happy with this new power set," said Mr. Lalith.
However a passenger from a different compartment who did not wish to be named said the lack of toilet facilities on the train was a serious cause for concern.
"There are two sides to this. This train is fast and people can get home on time. However, there are many people on the train who need to regularly use the toilets, especially passengers who suffer from diabetes.
They undergo a lot of difficulty due to the lack of this facility. One passenger we know personally was recently admitted to the Karapitya Hospital with diabetes. He takes this train to work everyday. He's a government employee and this has become a major problem to him" he said.
However, Dr. Gunaruwan charged that no one made a fuss about buses not being equipped with toilets even though a bus ticket was more expensive than a train ticket. He added the distance from Galle to Colombo is relatively short compared to trains travelling longer distances. These trains are not equipped with toilets either he said. Yet no one complains he said.
Dr. Gunaruwan found it difficult to understand why people complained about the lack of toilet facilities on trains. "There is a power set going to Puttalam from Colombo. That's much a longer distance than travelling to Galle he said. There are no toilets on that train either," Yet no one complained.
Meanwhile a group of female passengers who also did not wish to be named said they found the seats uncomfortable especially when travelling long distances. "The seats are very uncomfortable. If we miss a seat, it's very difficult to travel standing. There's nothing secure to hold on to," said one of the group.
However, a majority of the passengers who spoke to The Sunday Times agreed with the official view --that the new train was faster and much more fuel efficient than the previous one.