The successful research work carried out by officials of the Agriculture Department's project and research units has led to identifying two strains of paddy suitable to be planted on lands in the Puttalam District and which contain a high percentage of salt in the soil.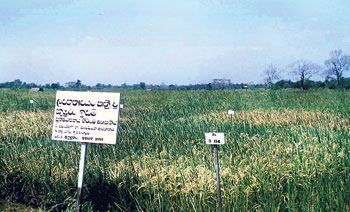 What were once abandoned fields are now lush with two new strains of rice adapted to the high saline content in the soil.
This research had led to a new lease of life being given to the paddy lands in the Karuwalagaswewa area, neglected by farmers. Consequently the abandoned paddy fields of Anginnathkulama in Karuwalagaswewa with an area of 91 acres will be brought under the plough again.
The farmers were relocated in the Karuwalagaswewa area after they were displaced from Wariyapola due to the commencement of the Deduru oya Project there. But their new location in Nelungama where they were given land was not suitable for paddy cultivation. This was due to the salty nature of the soil here. Their first harvest was a poor yield of only 12 bushels per acre.
Their complaints were intimated to Agriculture Deputy Director H M Sirimevan, who requested Assistant Director D M M Dissanayake to look into the issue.
The latter had then obtained soil samples from the area in question and referred them to the Rice Research Institute at Batalagoda. Tests carried out there revealed the percentage of salt in the soil was much higher than the maximum permissible. The officials then identified two types of paddy - BG 352 and AT 354 - that could be cultivated there.
Farmers say that these strains of paddy were ideal for the soil there and were full of praise for the officials for their dedicated research work.