They were left stranded by their security contingent as gunmen kept on firing at their vehicle. Their driver was shot dead and two others in their vehicle were critically injured. For most people, this type of crisis occurs only on the silver screen. For those who travelled in the ICC officials mini-van, mixed feelings of horror and rage consumed them.
The mini-van which was travelling behind the Sri Lanka cricket team bus faced the brunt of last Tuesday's terror attack in Lahore. While the bus carrying the Sri Lanka cricket team managed to get away as fast as possible, it was a shock filled 20 minuets for Umpires Simon Toffel, Steve Davis, Nadhim Gouri, Ahsan Raza, umpires performance manager Peter Manuel, liaison officer Abdul Sami and ICC match referee Chris Broad.

The bullet–riddled windscreen of the bus carrying the Sri Lankan cricket team, parked outside the Gaddafi Stadium. AFP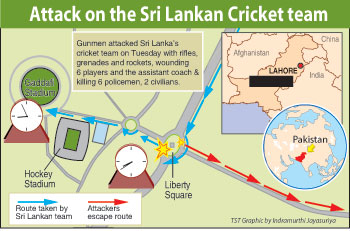 Peter Manuel, the ICC appointed umpires performance manager for East Asia, Sri Lanka and Pakistan, in an exclusive interview with The Sunday Times said that during those 20 minutes they were sitting ducks as there was not a single shot fired by the Pakistani security personnel assigned to them.
"We were basically abandoned by the security that was assigned to us. The 20 minutes that we were in that situation felt as if time had stopped," he said describing his horrendous ordeal.
"We left the hotel with the Sri Lanka cricket team bus and the police convoy that usually travels with us. The Pakistani cricket team's bus that usually travelled along with our convoy had got delayed. So they decided to travel separately. The roads were empty as always because we were travelling.
As usual we were cracking jokes and having a chat while we were on our way to the Gadaffi stadium," he said.
"When we were getting closer to an area known as the Liberty roundabout we heard an explosion. The explosion took place between the team bus and our van which was behind the bus. The entire convoy came to a halt. At that instant we heard gunfire. Chris had then shouted. He asked us to duck. We were on top of each other cramped inside the small van. Within split seconds our driver was shot dead. At that point the engine began to rev," he said.
"By that time we were all alone. The bus carrying the Sri Lanka team had been taken to safety and our police protection had vanished. We were all terrified to raise our heads thinking we might get shot. The van that was riddled with bullets began to rock due to the explosion of the grenades that were falling short of the vehicle we were in. Simon was grabbing my hand at that moment. I kept my laptop on the side of the van where we were ducking so I would have some additional protection," he said.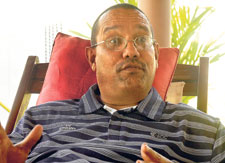 Peter Manuel.
At this point Ahsan Raza was bleeding from his chest after being shot. The liaison officer who was in the front seat of the van was shot on his neck and was critically injured. According to Manuel they thought this was their end as it seemed like there was no one coming to get them.
"Most of us were praying and hoping that someone would come to our rescue but nobody turned up. Chris was keeping his hands on Raza's chest to stop him from bleeding. Raza's white ICC umpires shirt was soaked in blood. Raza then started to pray," he said.
Manual said that later while the shooting was going on somebody opened the van door. "When the van door opened I thought that was the end of all of us. I thought the terrorist will either massacre us in the van or would drop a grenade. But it was not a terrorist," he said.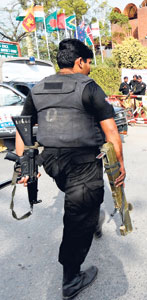 A Pakistani police commando carries a rocket launcher used by gunmen during an attack. AFP
To the surprise of those who were cramped in that mini-van a police officer attached to the Lahore police opened the van door to take cover from the firing.
"We were glad to see a police officer. But it seemed that he was trying to only take refuge in our van till the firing stopped and was not there to rescue us. The police officer had managed to survive the shooting as he was playing dead before he crept into our van," he said.
Apparently ICC match referee Chris Broad who was furious over the whole saga reprimanded the police officer and asked him to drive the van to safety.
"Why don't you drive," was the response given by the police officer to Broad. Eventually the police officer agreed to drive the ICC officials out of the scene, after much bombardment of words were directed at him.
"Chris was the hero of the day. He stayed calm and he handled the situation well.
If not for his scolding we would have been stuck there. Only he could have pulled something like that off. What angers me the most was that we were left stranded there. No one even came to rescue us. I only wonder what happened to out Elite police team," he said.