Two bank officers who were kidnapped for ransom were freed and their alleged captors arrested in an all-out police operation prompted by a crippling bank strike.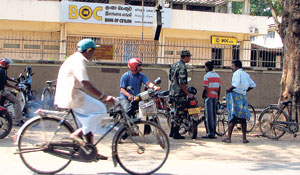 Customers waiting outside the Bank of Ceylon's Vavuniya branch, hoping an early end to the kidnap drama
Police said they obtained a lead after questioning several relatives of the two suspects. They said they set a trap and got the suspects to come to a place where they agreed to pay the ransom.
Only one suspect turned up. He was quickly overpowered and arrested. However, interrogations led to the arrest of the other suspect and the freeing of the two hostages who were being held at a building in the Vavuniya town.
Workers in Vavuniya banks launched a protest action, saying they would not go to work until the two kidnapped officers were released. They resumed work yesterday on hearing that the two officers had been freed.