President Mahinda Rajapaksa yesterday hailed the services of the Navy in their efforts to combat the sea activities of Tiger guerillas.
President Rajapaksa who was the chief guest at the Naval Maritime Academy passing out parade in Trincomalee, where his son Yoshitha was also commissioned as a Sub Lieutenant, said the Navy had played a vital role in protecting the country by destroying LTTE sea power.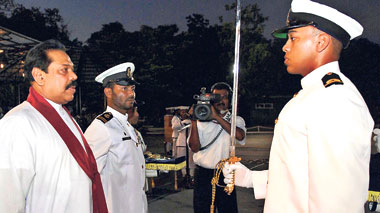 The commissioning of Yoshitha Rajapaksa to the rank of Sub Lieutenant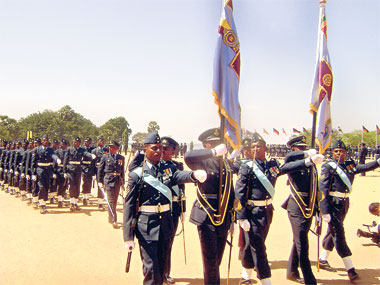 Earlier in the day the President presented the 'President's Colours' to the One Regiment and Four Squadrons at the Military Airfield in China Bay in Trincomalee yesterday.
He said the Navy has destroyed at least 10 ships carrying military hardware for Tiger guerillas and thereby gained vast experience in combating the Sea Tigers and preventing threats from the sea.
"The Navy Commander is being invited to address the gathering on his experience in combating terrorist activities in the sea," he said.
He said that the Navy has also been fighting the Tigers who have been using suicide craft and thereby gained international recognition for fighting such a group.
President Rajapaksa said that many of the families have been proud about sending their children to the armed forces and today he and Mrs. Rajapaksa were sharing the same joy seeing their son being commissioned.
Defence Secretary Gotabhaya Rajapaksa, Minister Chamal Rajapaksa, Navy Commander Vasantha Karannagoda and President's Secretary Lalith Weeratunga were among those present.