A rare black leopard which had got caught to a snare in Mavuldeniya, Deniyaya has died an agonizing death.
The carcass of the black leopard (melanistic form) was brought to the Elephant Transit Home at Uda Walawe on Thursday, said Veterinary Surgeon of the Department of Wild Life Conservation, Dr. Neshma Kumudinie, adding that it was a female.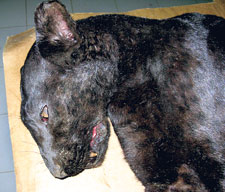 The carcass lying at the Kahawatte Hospital mortuary
The leopard had got caught to a snare -- the type where a steel noose is attached to a pole and hidden amidst grass -- usually set for small animals such as porcupines and wild boar, said Dr. Neshma, explaining that it had gone some distance with the snare and attempted to climb a tree. "The pole had then got stuck between two branches and the leopard had fallen through, dangling down, with the loop around the loin area, gradually tightening."
The leopard, growling in pain, had been found in the morning by villagers, atop a hill hanging down from the tree, said Ranger Ajith Gunatunge who went to the spot as soon as the wildlife office was informed. However, by the time he got there, the leopard was dead.
The leopard is about 2 ½ feet in height and 6 ½ feet in length, from nose-to-tail tip, said Mr. Gunatunge, adding that the fur is a dark black with the rosettes being darker.
The kidneys would have ruptured and the abdominal organs would have got damaged as the leopard dangled from a height, its weight giving in to the pull of gravity, while the noose tightened its grip further, Dr. Neshma explained.
The carcass is being kept at the Kahawatte Hospital mortuary because rare specimens like these need to be preserved, she said, adding that the head office has been informed and she was awaiting further instructions.
There have been only rare sightings of live black leopards, The Sunday Times understands, with villagers reporting seeing one in Horton Plains and another at Sri Pada in the Peak Wilderness.
Meanwhile, two dead black leopards had been found on the Sinharaja Forest border late last year and in Kalawana about four years ago.
It's a melanistic colour variant, not a separate species
The black felid that was recently found dead near Deniyaya is a Sri Lankan leopard (Panthera pardus kotiya), which itself is a genetic sub-species of the leopard (Panthera pardus), says Anjali Watson who along with Andrew Kittle heads the Leopard Project of the Wilderness & Wildlife Conservation Trust.
"The black form is a melanistic colour variant (like an albino, only with the black pigment – melanin - dominant) and not a separate species (or sub-species). In fact upon close inspection it is possible to see the typical spotted markings even on a 'black' leopard, it is just that the typically tawny or yellowish part of the coat is also dark making the contrast between 'spots' and background hard to distinguish," she explains adding that this interesting colour variation is found occasionally in jaguars (Panthera onca) and leopards (Panthera pardus), both of which are commonly referred to as "black panthers".
In jaguars the melanistic trait is carried by a dominant gene pair (allele) and in leopards by a recessive one. While there is a genetic underpinning to the melanism it does not mean that a black leopard will give birth to black leopards. In fact black leopards and spotted leopards can be found in the same litters and spotted leopards can give birth to black cubs and black leopards to spotted cubs, according to Ms. Watson.
These melanistic variants are encountered most frequently in dense forest areas where it is believed that their unusually dark colour is not a hindrance and in fact may well be beneficial for concealment, specifically given that these creatures are predominantly nocturnal hunters, she says. "Black leopards are most often documented from Java and the southern Malay peninsula. However, in Sri Lanka, there has long been evidence of them in the wet south-western zone around Sinharaja. In fact another black leopard was poached in that vicinity in May 2008 and its skin prepared for sale."
There are also records from the Customs Department of attempts to smuggle black leopard skins out of the country. Reports of black leopards sighted in the Central Highlands are not uncommon and some very credible evidence exists of seeing one in the vicinity of Peak Wilderness, adds Ms. Watson.