The Chairman of the Beruwala Pradeshiya Sabha and actor-turned politician Piyal Nishantha de Silva says he has entered the hustings with one thing in mind -- and that is to improve the limping tourism industry and the fishing sector in the electorate.
"For many years the tourism industry in Beruwala has received step-motherly treatment from authorities, irrespective of which party is in power and it is to improve these sectors that I decided to contest the PC elections," Mr. Nishantha of the Sinhala teledrama "Pabha" fame said.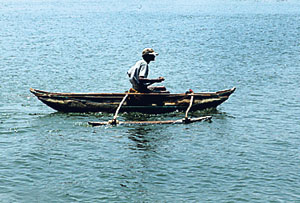 A Beruwala boatman who depends on the tourism industry for his daily bread
"When I am elected to the PC body I will use every available resource to try and inject more life into Beruwala's tourism industry, on which thousands of local residents depended for their livelihood, he added.
He added that after the once-lucrative toddy industry was taken over by a leading industrialist, more and more people depended on the tourism and fishing sectors, but unfortunately these two areas had remained neglected.
He said that unlike in Hikkaduwa, Beruwala continued to attract a sizeable number of tourists largely because the prices, including room rates, are reasonable.
"We keep a constant check on the hotel operators both big and small to ascertain that there are no unfair charges are being levied on the guests," he said adding that the decline in Hikkaduwa's tourism industry was due not only to the ethnic war but also to unscrupulous persons overcharging unsuspecting guests.
(Additional reporting from our Kalutara Correspondent, Sunil Thanthiriaarachchi)