The government is to lift the ban on Lankans seeking jobs in war-torn Iraq, and is planning to open up a full diplomatic mission in that country to assist in this effort, Foreign Employment Minister Keheliya Rambukwella said.
The move, coming into effect from April 1, would also end unscrupulous operations of errant job recruiting agencies which were known to plunder large sums of money from Sri Lankans seeking jobs in Iraq, he said.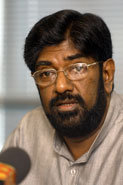 Foreign Employment Minister Keheliya Rambukwella
"With the lifting of this ban, the authorities will be able to monitor the welfare of workers in that volatile country," he said. At present, about 20,000 Sri Lankans are employed in Iraq, mainly in US military facilities.
The Minister alleged that at least 20 licensed agencies were engaged in the illegal recruitment to Iraq and they could not be apprehended owing to the cunning nature of their operations.
He described the Association for Licensed Foreign Employment Agencies (ALFEA) as a "mafia" saying that the latest move would stop some of their activities.
Meanwhile in a related development, Libya has offered 1,000 job opportunities for local doctors and the same number for trained nurses at staggering wages. While a doctor was being offered between $6,000 and $8000 nurses would get around $2,000, the minister said.
Beginning next week the authorities plan to advertise these job opportunities in the local media and have also made arrangements to grant three years no-pay leave for Government dcotors and nurses who wish to take up these posts in Libya, according to Mr. Rambukwella.
The minister said the government was also looking at the prospects for jobs in war-ravaged Afghanistan, but much depended on the ground situation in that country because of the war.
A spokesperson for ALFEA welcomed the latest initiatives by the Government while admitting there were some rogue agencies in the association.