The government, through the Central Bank, is negotiating a $1.9 billion bailout package with the International Monetary Fund (IMF) – an agency that was not wanted earlier – because the country's foreign reserves have hit rock-bottom, economists say.
While Central Bank Governor Ajith Nivard Cabraal and CB statements claim that the request has been made pursuant to 'an offer by the IMF', the crisis is so acute that Sri Lanka had few choices. "Otherwise why ask for money if we have money – particularly from an institution (IMF) that the government didn't want," senior economist Dr Sirimal Abeyratne asked.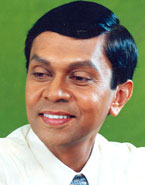 Central Bank Governor Ajith Nivard Cabraal
Opposition Parliamentarian Ravi Karunanayake said the government was asking four times the amount ($500 million) it had sought through Diaspora funding.
"Asking for such a lot of money means there must be a serious financial crisis," he told the monthly meeting of The Sunday Times Business Club on Friday. But he warned; "The global financial meltdown is yet to hit Sri Lanka and when it does, we would be in serious trouble."
By end December 2008, gross official reserves, without Asian Clearing Union (ACU) funds, stood at $1.7 billion sufficient just for 1.5 months of imports, the CB said. This compares with gross official reserves in end December 2007 of $3.5 billion, more than double that amount, though this (December 2007) figure from the CB website doesn't say whether it is with or without ACU funds. However the December 2007 reserves with (ACU funds) were still higher at $2.5 billion.
Economists say the CB uses official reserves (which contain government and CB foreign reserves) and total reserves (which include these two components plus commercial banks) in addition to citing 'with or without ACU funds' in explaining the reserves position.
"There is total confusion in citing all these figures when the figure one should consider is what the government and the Central Bank have (since commercial banks' reserves are not state-owned money) and that is the actual position," Dr Abeyratne said.
The decision to revert to the IMF comes more than two years after the IMF closed its Colombo office, saying it had no programme here.
However the opposition and economists at that time said the government, also under pressure from the then-partner JVP, didn't want conditions attached to lending and openly expressed its distaste for loans that came with strings attached, which is how multilateral agencies work.
"There were signals in no uncertain terms that the IMF was not wanted here," a political analyst said.
The last IMF facility was a $567 million loan given in April 2003 to support the government's 2003-2006 economic programme. The first tranche of $81 million was immediately received but the loan was suspended in November 2003 due to political problems and in April 2006 it expired. The IMF set up its Colombo office in 1979.
Asked why the CB did about-turn in the decision to seek IMF funding, after saying in January that there was no need for such support, GovernorCabraal said, "…well the offer was made and that we could have the loan without any conditions. We didn't think we needed it but then this happened to be a good opportunity (to boost reserves)," he told The Sunday Times.
In an exclusive lead story on January 18, this year, The Sunday Times reported that economists and exporters were urging the government to either devalue the rupee or seek a bailout package from the IMF to head off a foreign exchange crisis whereas the CB Governor insisted that the Bank had its own strategies to tackle the problem.
"The situation is under control. We expect to close 2008 with foreign reserves worth $2.5 billion equivalent to around 2.2 months of imports. We are also hoping to raise up to $500 million from the Sri Lankan Diaspora through investment in bonds and treasury bills …," Mr Cabraal was quoted as saying.
Then the following day, on January 19, newspapers extensively quoted Mr Cabraal and other CB officials as saying there was no need for devaluation or the support of the IMF.
On Friday, Mr Cabraal said Sri Lankas crisis was not an internal one but triggered by the world financial crisis. "This IMF facility will boost confidence in the markets and also provide confidence in our instruments (bonds)," he said adding that the negotiations will be completed soon and the facility will be 'available within weeks (not months)."
He said a separate IMF team would arrive soon to further discuss the facility. He denied charges that the bid to get Diaspora investments in bonds had failed, saying some accounts had been already open and like in any process the money would not come immediately.
Mr Cabraal was not sure whether the IMF would reopen an office or oversee the Sri Lanka programme from its regional office in India. Dr Dushni Weerakoon, a senior economist at the Institute of Policy Studies, said Sri Lankas main problem haf been the outflow of foreign exchange and using the 'little we have' to defend the rupee in local markets.
"In addition to the outflow of some $600 million last year after foreigners withdrew monies in CB bonds in the second half of 2008, the CB has been pumping some $200 million a month (between September and November) in an unsustainable exchange rate policy to prop up the rupee," she said, adding that the IMF was most likely to insist – in its conditions - that Sri Lanka maintain a flexible and market-driven exchange rate policy.
The announcement of the IMF loan negotiations came a day before a group of top business executives, including Hayleys Group Chairman N.G. Wickremaratne, John Keells Holdings Chairman Susantha Ratnayake and MAS Holdings Chairman Mahesh Amalean – put together by Tourism Minister Milinda Moragoda – were invited at a dinner on Tuesday hosted by President Mahinda Rajapaksa for the visiting IMF delegation, informed sources said.
The executives also individually, at the President's request, explained the crisis facing exports and the economy, and in the midst called for IMF support, a proper exchange rate policy and a stimulus package for exports.Asked about strict IMF lending conditions, Dr Weerakoon said the Fund recently provided a loan to cash-strapped Pakistan with strict conditions but believed that is unlikely to happen in the case of Sri Lanka. "They are unlikely to ask for fiscal deficit adjustments as many countries in world are going through a similar crisis. It would be unfair to ask for such adjustments. The problem is the exchange rate policy," she said, adding the government had gone to the IMF which is the "lender of last resort".
Dr Abeyratne said Sri Lanka was facing a debt trap where one had to borrow loans to pay off debts. "It seems we are down to our lowest level. Diaspora funds have not come as expected. Last year the government paid close to half a million dollars in debt payments and this year it would be higher. So we are borrowing to pay off our debt -- which is where part of the $19 billion IMF facility will go."
He said budget and balance of payments would be the key problems this year.
Sri Lankas economy is going through a severe crisis which government economists and the CB are not prepared to acknowledge. Military spending has also increased sharply in recent years due to the conflict. Exports are down and garments are getting squeezed out in other markets while jobs are being shed across the employment sectors.
Companies are also cutting costs with outsourcing assignments being the first to get axed. The Employers Federation has asked the government to reduce the number of working days per week to five from 5 ½ days.
Last week, Fitch Ratings downgraded Sri Lanka long-term foreign and local currency Issuer Default Ratings (IDRs). Head of Fitch's Asia Sovereign Ratings James McCormack was quoted as saying the downgrading was due to 'the increased vulnerability of sovereign creditworthiness to adverse shocks associated with rising inflation, persistently large fiscal deficits and worsened terms of trade due to soaring oil prices in the context of greater government recourse to commercial and market-based financing'.
The CB rejected the assessment saying it was based on Fitch's 'pessimistic views on the security situation, inflation and foreign currency borrowings' and was not in line with the recent improvements in the country's macroeconomic fundamentals and its future outlook.
A week later, the CB – which has repeatedly rejected claims that the economy is in a crisis and that there is no need for outside assistance – says it is negotiating with the not-wanted IMF for the biggest-ever bailout package of $1.9 billion.