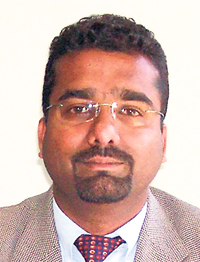 Mr. T Soumyraj - Chairman
Wisdom Business Academy
Wisdom Business Academy - the CIMA institute trusted by countless numbers of students as well as top-notch employers now gears itself for the Managerial and Strategic level sessions in a new-and-improved sense. Having established back in 2002, Wisdom has in its resolve to provide solid academic assistance to students of CIMA, evolved to become a key supplier of management accountants into the job market. This comes with its holistic approach to grooming its students both academically - in the classroom; and socially - out of the classroom with its dynamic Student Council Body, which it terms as "beyond education experience".
Wisdom Business Academy now offers students at the Managerial and Strategic Level of CIMA a new and improved lecture experience for the subjects of Organisational Management and Information Systems (Paper 04) as well as Integrated Management (Paper 05), two subjects that the institute felt that should be "especially tailored for students at this level", stated Mr. T. Soumyraj - Chairman, Wisdom Business Academy.
Wisdom recently announced that it will be reducing its course fee with immediate effect in response to the financial challenges faced by its students; post a survey it conducted on its student base. This decision falls in line with the institute's "commitment to learning and aspiration for students to follow the syllabus of the Chartered Institute of Management Accountants (CIMA) up to completion", according to Mr. Soumyraj.
Wisdom records an annual enrollment of 6,000 students, who are attracted by its panel of lecturers that is arguably the most effective teachers of the CIMA syllabus. "Wisdom adopts a stringent procedure of training and evaluation of its lecturers, so as to maintain the delivery of the quality of its lectures. Lecture scrutiny is not limited to the administrators of the institute alone, but also to each student, as its first customer." Mr Soumyraj further states. The institute distributes lecturer feedback forms to its students that present a forum for them to grade their lecturers on presentation style, theory explanation, application of theory, number of questions done, discussion of questions, subject coverage, interaction with students, exam skills & techniques and punctuality.
The lecture panel offers an uninterrupted coverage of this syllabus that is completed at least two months before the scheduled exam date(s) and a revision programme that summarises the syllabus is always on offer with two mock exams that are marked and evaluated both before and after syllabus completion. In addition to this, at least ten past papers are discussed in the classroom, prior to the exam. Pass rates at Wisdom have far superseded that of the pass rate for Sri Lanka, the world and the UK itself, since May 2004. In being appointed a Learning Quality Partner by CIMA-UK, Wisdom honours its terms and conditions of not publishing its results for promotional purposes and instead strives to live up to its vocation of turning out true professionals.
"WISDOM - The Best academy for your CIMA studies" - Student's point of view
Ms. Kumudari Peiris - Sri Lanka prize winner for Integrated Management - May 2008 states "The guidance rendered by my lecturers was massive. The examination focus was maintained throughout the session. The clarifications on any subject matter and direct feedback given to students on their answer scripts truly supported me in sitting the exam with greater confidence. I felt that my lecturers put their maximum effort in what they did. Besides the subject matters the discipline they brought into the class helped people stay focused all the time".
Mr. Muhammed Azan - Sri Lanka prize winner for Performance Evaluation - May 2008 states "I would say Wisdom is the best place for your CIMA studies. Wisdom has the best panel of lecturers but along with that it provides the right environment and facilities for students, which is as important as having a good panel of lecturers. I have been with Wisdom from Foundation onwards therefore I would strongly recommend Wisdom for all of my friends."
Mr. Rajeev Malinda Serasinghe - Sri Lanka prize winner for Risk & Control Strategy, Sri Lanka prize winner for Financial Strategy and Highest aggregate at Strategic level November 2007 states - I strongly recommend Wisdom to my friends and all other CIMA students as I can never forget the motivation and the caring environment I have at Wisdom. Wisdom is an institute where the all the lecturers for all the CIMA subjects are equally competent in lecturing, guiding and making it a personal goal to help all students pass."
Ms. Nishani Anne Aponsu - Sri Lanka prize winner for Business Strategy - November 2007 states -"Wisdom's method of lecturing and providing resources was immensely helpful for someone like me who was working part time and also studying for a degree. Wisdom's exam oriented techniques were the best way to get through exams with minimal effort. I would recommend anyone to join Wisdom; I already have and I'm grateful that I did."
Ms. Mariez Jenevy Wanigasekera - Sri Lanka prize winner for Organisational Management & Information Systems - November 2007 states - "I appreciate the dedication of all my lecturers. They were always well prepared and very systematic in their approach and thereby made it easy for the students to grasp their explanations. I experienced the uniqueness of the lecturers and of Wisdom as an institute. I feel that this is the most appropriate institute for anyone hoping to do CIMA and ensure that they pass".
Mr. Akila Ishan Gunarathna - Sri Lanka prize winner for Decision Management - November 2007 states "Wisdom builds a strong foundation for CIMA exams. Wisdom prizewinners and the high pass rates are the outcome of their strategy. Wisdom has all the facilities required by a CIMA student".