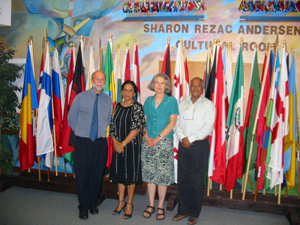 Priyanthi & Dissa with Victoria Beard Associate Provost & Ray Lagasse Director international Programmers of UND
Last summer, the University of North Dakota (UND) welcomed to campus Priyanthi and Dissa Dissanayake, Guidance Counselors and Foreign University Placement Advisors from Sri Lanka. Since that first meeting three month ago, the seeds of collaboration have already produced fruit as UND is about to welcome its first Lankan Aviation student to campus.
The Dissanayake's global outreach was particularly timely because NASA (National Aeronautics and Space Administration) has just launched UND's student/faculty-designed Agricultural Camera (AgCam) on the Space Shuttle Endeavour for delivery to the International Space Station. UND's third space mission this year, AgCam will circle the globe taking frequent images-in visible and infrared light-of vegetated areas to help improve our environmental stewardship of the land. At UND, Lankan students can make a world of difference.
Where is UND?
UND is located in a safe, friendly, all-American community of 50,000 on the banks of the river that separates the state of North Dakota from Minnesota. The city of Grand Forks is a regional hub for agriculture, commerce, education, research, health care, Canadian tourism (100 km from that border), and, of course, aviation.
UND Aerospace-not just pilot training
With over 500 faculty and staff serving over 1,500 students around the world, the Odegard School of Aerospace Sciences (www.aero.und.edu) is a world leader in aerospace education. Undergraduate and graduate programmers include Aviation Management, Airport Management, Commercial Aviation, Flight Education, Air Traffic Control, Aviation Systems Management, Atmospheric Sciences, Space Studies, Computer Science, and Earth Systems Science and Policy. From the most technologically advanced flight simulators to the world's largest collegiate training aircraft fleet, UND Aerospace provides students with an educational experience second to none.
Rankings
The UND Flying Team has captured 14 national championships out of the last 22 national flying competitions. U.S. News and World Report consistently lists UND among the Top 200 Best National Universities. Princeton Review/Entrepreneur Magazine ranks UND in the "Top 10 Most Entrepreneurial Undergraduate Campuses in the Country." Washington Monthly ranks UND in the top 70 colleges and universities in the nation (out of more than 4,000).
12, 500 students, including 600 international students from 60 countries, study at UND. In addition to Aerospace, top academic programmers include Business, Engineering, Liberal and Fine Arts, Nursing, Natural and Social Sciences, and Education. UND received over $353 million in sponsored research over the last five years and is one of only 47 public universities in the US with accredited law and medical schools.
Lankans Welcome!
In recognition of the high quality of our undergraduate international students, UND offers first-year students a tuition waiver scholarship equal to $3,000. After completing two semesters at UND, international undergraduate students may apply for additional tuition waiver scholarships up to 75% of the tuition costs. Our Office of International Programmers has a large and experienced professional staff to welcome and assist incoming Sri Lankan students as they settle into their new life on the campus of the University of North Dakota. Thank you, Priyanthi and Dissa Dissanayake, for your vision for our partnership and your dedication to Lankan student success.