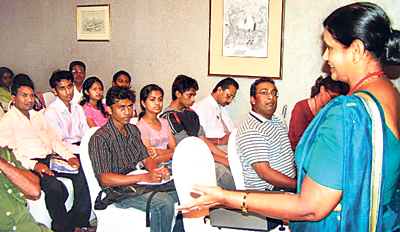 At a student orientation held in Colombo EducationUSA Advisor Nelum Senadira advises students and parents on how to pick the best U.S. University.
According to Open Doors 2008, the annual report on international academic mobility published by the Institute of International Education (IIE), the number of Sri Lankan students enrolled in U.S. institutions of higher education increased from 2,373 to 2,591, a 9.2% increase over the 2006/07 academic year. This was the fourth consecutive year of increase.
"The U.S. remains the preferred destination for students from Sri Lanka who want to study abroad because of the quality and prestige associated with an American degree," says Nelum Senadira, EducationUSA advisor at the United States - Sri Lanka Fulbright Commission. "The wide variety of degree programs and scholarship options available at U.S. universities make them an attractive solution for the thousands of qualified students who do not find places in Sri Lanka's university system each year."
Admissions procedures for U.S. institutions
If you are a student preparing to apply for admission to colleges and universities in the United States, it is important for you to understand the procedures most U.S. institutions will follow in deciding whether to admit you to their program of study.
In the United States, each college or university is free to set its own standard for admission and establish its own criteria to determine if a student's academic qualifications meet that admission standard. Your previous study records, therefore, may meet the standards at some institutions but not at others. It is the responsibility of the college or university to review your educational background to determine if you meet the standard required for admission. Many institutions will have their own staff evaluate or assess your previous study. Other schools might require you to send your academic records to an agency that specializes in providing evaluations of a non-U.S. education.
Regardless of whether your records are going to be reviewed by the college or university to which you apply or by an outside agency to which you have been referred, you will need to provide all of your previous academic records:
n You will need to have an official copy of all of your previous academic records or "transcript" sent to the institution to which you apply, and to the agency that will review your education. Academic records not in English will need to be translated. A certified copy of the original document (the Sinhala/ Tamil version) should accompany the translation.
n If you have taken the G. C.E., London/ Sri Lankan Ordinary and/or Advanced level examinations, you will need to send copies of the results of these examinations. n If you are applying as a first-year student for a Bachelor's degree most universities would require you to take the SAT test.
n Those applying as graduate students (for the Master's degree or PhD) might be required to take the Graduate Record Examination (GRE), or other tests. n Since English is not the native language of Sri Lankans both undergraduate and graduate applicants may be required to present the results of an English proficiency test, such as the Test of English as a Foreign Language (TOEFL).
n For a student or exchange visitor visa, you will need to present evidence that you have adequate financial support for a period of your anticipated study. Most U.S. colleges and universities will ask you to complete a form regarding your financial backing for your studies, or will tell you what documentation is required.
n Deadlines are extremely important! Most colleges and universities will have earlier application deadlines for international students, and it is essential that your application be received before that deadline. (Information provided by Dale Edward Gough)
Get help with your application
It is highly recommended that you visit the EducationUSA Advising Center at the United States - Sri Lanka Fulbright Commission, No. 22, Flower Terrace, Colombo 7 - www.fulbrightsrilanka.com or other student advising centers located in the American Corner, National Library, Kandy, and OBA Building of Mahinda College, Galle.
These EducationUSA offices are affiliated to the United States Embassy in Sri Lanka and have staff who can provide you with valuable information about applying to more than 4000 U.S. colleges and universities. They also have information about specific institutions, as well as, assistance with testing, application preparation and financial aid research. You can find more information on the U.S. government affiliated advising centers at http://www.educationUSA.state.gov/centers.htm.