The Ladies' College Department of Vocational Studies offers a Diploma in Specific Learning Disabilities online which is a special teacher training course, sponsored by the Asian Development Bank (ADB) and is a part of its Distance Learning Modernization Project under the Ministry of Higher Education which commenced in 2003 with the objective of increasing access to higher education by introducing technology-enhanced distance delivery. To meet this objective the project established the National Online Distance Learning Services (NODES) comprising of a Network Operation Centre which is located in Borella from which a 2Mbps high speed network connects to NODES Access Centres in several areas of the country.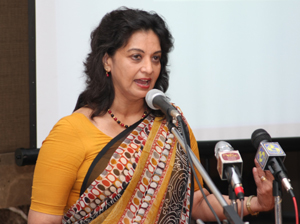 Nirmalee Wickramage Principle Ladies College
The Ladies' College Department of Vocational Studies has joined hands with the DEMP as a partner organization to this project with the main aim of offering this course online in order to reach out to a wider audience. This unique programme prepares learners to be effective teachers when dealing with students who display characteristics pertaining to Specific Learning Disabilities. The course is specifically targeted towards teachers, learning support teachers, pre-school teachers as well as parents supporting children with learning disabilities.
Children with Specific Learning Disabilities are those with certain neurological disorders, which affect the acquisition, retention, understanding, organization or use of verbal or non verbal information. This disorder affects an average of 10% of children in every classroom where unfortunately children with this disorder in most cases are labeled off as problematic children. The exact causes of learning disabilities are not known although some reasons such as genetics, prenatal, perinatal and post natal factors are believed to contribute towards learning disabilities.
The pervasive nature of learning disabilities affects many aspects of a child's life in which low esteem is very common among such students. Learning disabilities not only affect the victim but also carry a heavy toll on the parents as well as the teachers, who in most instances may become frustrated and feel inadequate due to their incapacity to help the student succeed. The main idea behind developing this course is to assist teachers and to empower them with the right knowledge and expertise required to assist these types of children. The course also helps teachers as well as parents to identify such children in their early stages and teaches them on how to work alongside these children whilst focusing on their inherent strengths and abilities in order to produce better performing adults to the society.
Specific Learning Disabilities if left untreated can later develop into various behaviour disorders where children go into society as adults with serious emotional and psychological problems.
This type of long term damage can be prevented if teachers as well as parents are able to detect these disabilities in children in their early stages. This course is considered to be an extremely important fundamental requirement for every teacher's education and in addition to this the course also offers a unique opportunity for parents to better understand and assist their children in their studies and character development.
Distance learning courses have become increasingly popular with the expansion of the internet and its ability to deliver online learning to students around the world. It allows the students to enroll in programmers even if he or she lives in an area that is located outside the training centre. In some ways a course taught through distance learning methods is not very different from the traditional classroom approach. Students still receive assignments, work on group projects, view or listen to lecturers, study for tests and quizzes, whilst communicating with classmates and teachers.
The duration of the course is one year (three semesters). Students will face a written examination and a viva at the end of the course. In addition, two face to face sessions are offered, to participants who wish to personally meet their tutors. These sessions are optional. The minimum requirements to follow this course are 3 passes at the GCE A'L examination and a credit pass in English at the GCE O'Level examination and access to a child between the ages of 6-10 years, who demonstrates a difficulty in speaking / reading /writing / number skills. Technical skills such as word processing, internet and email skills area all basic requirements.
Distance learning courses are suitable for students of all ages and all backgrounds and have proven to be effective for millions of people. Over the years the quality of distance learning has greatly improved as best practices have been shared and refined, making both students as well as educators more comfortable with technology which may very well be the answer to many educational dilemmas we face today.
For further information log on to http://lcdvs.nodes.lk or email: lcdvs.online@gmail.com