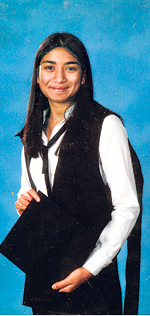 In summer of 2008, Samantha Fernando completed her Masters Degree in Composition at the Royal Academy of Music, an internationally renowned music conservatoire gaining a distinction for her composition portfolio and the Richard Lucas Prize. This has been a great achievement for her lifelong passion in music which was supported by her devoted parents, both born in Sri Lanka, who migrated to England in the seventies. Samantha's interest in Music started when she was just five years old and continued through her teenage years achieving the level of grade 8 in three aspects, piano, flute and voice. Her dedication and hard work was finally rewarded with a place at Worcester College, Oxford to read Music under the supervision of the famous British composer Robert Saxton.
Her work has been performed by numerous ensembles including The Royal Academy of Music Symphony Orchestra, The New London Singers, The Royal Academy of Music Manson Ensemble and Ensemble Isis. Last year Samantha was selected for a year-long composer's course at the famous Royal Opera House, focusing on the compositional skills necessary for writing opera and music theatre. Her work "Change", for unaccompanied choir, was highly commended for the Eric Coates Prize and was recently performed in St. Martin-in-the-Fields by the New London Singers. Other recent performances of her work include "Chrysalis," for clarinet, trumpet and accordion; which was chosen alongside works by well-known British composers (Simon Bainbridge, Phil Cashian and Tansy Davies) for the inaugural Composition Department Showcase at the Royal Academy of Music.
Samantha, who is the eldest in the family, has been an inspiration to her brother and sister both of whom have also studied music. Sebastian the youngest played the clarinet and the piano while her sister Anushka achieved the diploma in the violin. They are very united and enjoy each other's company. Their mother Shanthi has always encouraged them to reach their God-given potential and without endless support, encouragement and prayers of both parents and grandparents, none of this would be possible. "For me the best way to relax after a long day at work is when they play a piece of music together while I enjoy a glass of wine," says her dad Felix. For Felix and Shanthi, who are from Moratuwa and Dehiwela, they see the success of their children as a considerable achievement for the whole family. This shows that even with humble beginnings, it is possible to reach your dream if you have determination, hard work and a supportive family behind you.