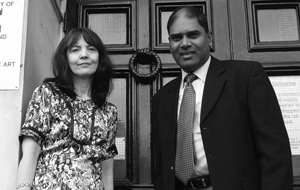 Head of Examinations, Dawn Postans with Director of the LAMDA Examinations Sri Lanka office, Dr. Harsha Alles at LAMDA Headquarters in London.
LAMDA Examinations, the Awarding Body arm of The London Academy of Music and Dramatic Art, has taken steps to improve and widen its services to Sri Lankan schools, teachers and students by appointing a new Sri Lanka representative. LAMDA examinations have been growing in popularity in Sri Lanka over the last few years. From 2009, LAMDA Examinations will be held in February and August every year. LAMDA Examinations Sri Lanaka has had a significant increase in the number of entries for the February 2009 session. Entries for the February session have just been closed. Schools and Teachers are able to send their entries for the August 2009 session by April 2009. The new arrangement, in addition to providing more support to those who are already involved with LAMDA examinations, will provide opportunities for more teachers and pupils island-wide to develop their communication and dramatic art skills.
LAMDA is recognised worldwide for being one of the leading drama schools in the English- speaking world and for conducting the most eminent set of public examinations in its sector. In British theatre and television, many cast lists include LAMDA alumni. Many students studying in independent schools, state schools and private performing arts schools in the UK have the opportunity to take LAMDA examinations, including the Grade 8 exams, which are recognised for entrance to UK universities. In fact, UCAS points are available for examinations at Grade 6, 7 and 8, to assist in entering UK universities.
LAMDA is dedicated to the creative, intellectual and social development of the individual as a whole. It is for this reason that LAMDA has become the largest Speech and Drama Awarding Body in the United Kingdom. Its examinations also have a reputation for excellence worldwide, so candidates can measure their progress against an internationally applied standard. LAMDA Examinations is accredited as an Awarding Body by The Qualifications and Curriculum Authority (QCA) and the corresponding regulatory authorities in Wales and Northern Ireland.
Among many initiatives planned for Sri Lanka are teacher workshops by visiting British specialists, curriculum support to schools and new qualifications. LAMDA is also pleased to launch the LAMDA Teacher's Certificate in Communication (LTCC), an exciting specialist qualification for teachers, which has been designed to develop the skills, knowledge and understanding required to teach introductory communication skills and speech to young children and adults.
Further information can be obtained from Aroshi Jayasinghe or Sashi Mendis at the LAMDA Examinations Sri Lanka office at 33/10, Gothami Raod, Colombo 8. You could also email on aroshi@lamda.lk, sashi@lamda.lk or call on 0773838877 or 2682777.