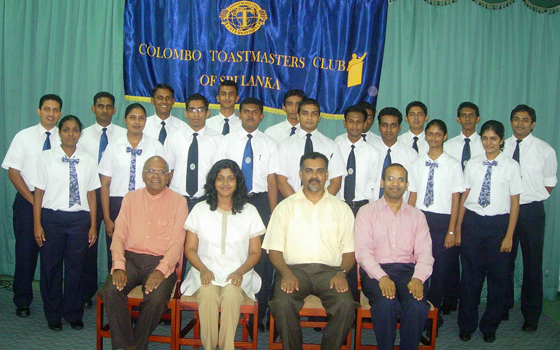 SLITHM graduating seniors and faculty with trainers from The Colombo Toastmasters Club.
The Sri Lanka Institute of Tourism & Hotel Management (SLITHM) held a workshop to hone the public speaking skills of their graduating seniors recently at the Samudra Hotel. The workshop was organized and presented by The Colombo Toastmasters Club, which completed 25 years of public speaking leadership in Sri Lanka this year.
Twenty one graduating seniors of the SLITHM participated in the workshop, which was conducted by Master Trainer and Able Toastmaster Mr. Haleem Ghouse. Mr. Ghouse was assisted by Competent Toastmaster and past All Island Best Speaker winner Ms. Maheshi Premasinghe, who runs her own training consultancy "The Star Factory". The workshop was coordinated by Mr. Dhammika Gunathilleke, Senior Lecturer, SLITHM.
Mr. Roy Jayasinghe, Director General of SLITHM, commenting on the workshop stated, "We thank The Colombo Toastmasters Club for coming forward to train our students in public speaking as part of their Silver Jubilee Community esponsibility Program. We have identified effective communication skills as a key competency that will propel our students to leadership positions in tourism and hotel management in the future".
President of The Colombo Toastmasters Club Competent Toastmaster Yukthi Gunasekera expressed his appreciation to John Keells Holdings PLC Director Mr. Sumithra Gunesekera for providing the opportunity to train graduating seniors of SLITHM in the art and science of public speaking. He further stated, "Graduating seniors of SLITHM are the future leaders of our nation's tourism industry and they will be our country's brand ambassadors as they go overseas to develop their careers. Therefore this workshop was in keeping with the presidential theme of our Toastmasters Club this year, 'creating people of value for our nation's progress'".