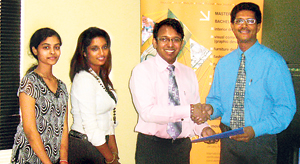 Signing of the Agreement between Raffles Education Corp and Universal Student Consultants. From right to left: Mohideen Naushad Caffoor (Education Consultant) Raffles Education Corp, Sanjeev Ganeshan (CEO) Universal Student Consultants, Sathna Thiruchelvam (Student Consultant) Universal Student Consultants, Yashayini Thiagaraj (Junior Student Consultant / Telemarketer) Universal Student Consultants
"Design is inherent in all areas of modern life. It would be tangible design in media and entertainment or consumer products. It would be on the World Wide Web or the interior of a home or office. But most importantly, it could have long lasting results in improving our quality of life, business operations and even protecting the future of the planet for generations to come. Needless to say, the potential for good design is tremendous" mentioned the CEO of USC Mr.Sanjeev Ganeshan.
Raffles Design Institute (formerly known as Raffles LaSalle Institute) is the leading design education provider with schools in major cities such as Beijing, Shanghai, Changchun, Changzhou, Guangzhou, Huizhou, Ningbo, Wuhan (China), Bangkok (Thailand), Kuala Lumpur (Malaysia), Mumbai (India), Ho Chi Minh City & Hanoi(Vietnam), Auckland (New Zealand), Sydney (Australia), and Singapore.
Raffles Design Institute (Singapore) was established in 1990 as an educational institution dedicated to the professional design disciplines of Fashion Design, Fashion Marketing & Management (Fashion Marketing, Retail Management, and Fashion communication and Journalism), Visual Communication (Graphic Design), Interactive Media Design (Multimedia Design, Animation, and Games Design), Interior Design, Product Design, Furniture Design and many more.
These programs are designed to incubate creative professionals and entrepreneurs, and it offers an expeditious pathway to undergraduate study of Bachelor of Design or Bachelor of Arts (Visual Communication) certification within 3 Years after High School and Master of Design.
The lecturers of Raffles Institute are professional practitioners in their respective fields. Employed from Australia, Canada, Columbia, Korea, Spain, United Kingdom and the United States they bring with them a wealth of technical knowledge and industry experience, which they impart with commitment, creating an international learning environment that is rich in creativity and growth for individuals.
The curriculum at Raffles Design Institute is constantly reviewed to keep our students at the forefront of design education and training. A unique combination of academic theory and hands - on experience ensures that all graduates possess the skills and knowledge demanded by employers worldwide as well as a sound foundation for advanced study.
As part of the curriculum, Raffles Design students will be placed in companies under the internship programme. Such industry attachments offer our students the opportunity to work on real life projects to gain industry experience and to enhance his / her portfolios. Students will also establish strong networks with companies for their future employment.
Our students will be trained under an international curriculum, and are strongly encouraged to participate in international competitions. Raffles Design Institute prides itself in sending many award-winning students to international competitions. Raffles Design Institute continues to strive for excellence in delivering high quality education and providing an enriching learning experience for our students.
"Thus choosing a course and school in design or business are some of the most important and exciting decisions you will make for your career. The programmes offered, the lecturers, the school environment and the friends you will make - these are the things that will make a lasting impression in your life and your career.
Taking this into consideration Raffles provide a range of design and business programmes that will equip you with valuable skills to design your future! " quoted Mr.Sanjeev Ganeshan, CEO of USC.
Raffles Design Institute is a quality design institute of Raffles Education Corporation with the Singapore Quality Class (Private Education Provider) award and CASETrust accreditation. Identified by International Enterprise Singapore as one of the most promising education providers.
For those interested in pursuing a career in this exiting and rewarding field, one can visit the USC Office at No. 11 Arthur's Place, Colombo 04 or call on 0772830919.