Sports
---
Wickremaarachchi is the best
Unknown twelve year-old lad dazzles at swimming nationals
By Saif Izzadeen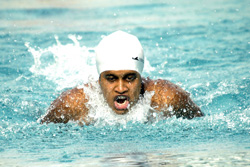 Miniruwani Samarakoon of Gateway International Kandy who won the girl's senior title winning the 400 metre Individual Medley event. (Picture by Saman Kariyawasam)
Twelve year-old W.K.S. Wickremaarachchi from virtually unknown Polonnaruwa Aquatic Sports Club took away the major honours by wresting the best Junior men's swimmer title at the National and Junior National Aquatic Championships at the Sugathadasa Stadium yesterday.

Wickremaarachchi won the under 14, 200metre free style event with a meet record of 2 minutes 14.72 seconds erasing the previous mark set by Gihan Ranatunga in 1995 of 2 minutes 16.04 seconds.
As expected defending champions Trinity College Kandy retained the Dudley Senanayake Memorial Trophy with a haul of 324 points. Coming in second was St. Joseph's College Colombo with 277 points while Ananda Collage took the third place with 214 points.In the women's events Musaeus College Colombo dethroned the defending champions Mahamaya College Kandy when they finished with 161 points taking the SLASU Challenge Trophy. In second place were the lasses from Asian International School with 157 while Mahamaya finished third with 150 points.

Miniruwani Samarakoon of Gateway International School Kandy was selected the best girl's swimmer in the senior category while Devinika Gunatilleke from the Asian International School was the runner-up.
In the men's senior category Heshan Unamboowe of Trinity was the best in the senior class while Diluka Thibotumunuwe from Ananda College was adjudged the runner-up.

Musaeus made it a double when they also won the junior title with 115.50 (-5) points while British School Colombo with 106.50 came in second.

St. Joseph's had the consolation of taking the Junior title with 174.50 points while Ananda took the second place with 143 points.
|
E-mail
|
views[

1

]