Sri Lanka played and was forced into a draw on Tuesday the 12th a few hours after they landed late night on Monday. The changed schedule was because China was not coming with logistical problems in obtaining their visa on time. The consequences would possibly be they will end in the next lower division. With all the mixed priorities taking precedence and the selection getting delayed it was luck that prevailed in the Lanka team landing in Taipei.

Singapore through a last minute try held Sri Lanka to a draw and repeated the same last minute try to beat Taipei by one point. Sri Lanka team who gave away the 7 point lead to let Singapore level scores. Sri Lanka has to play Taipei on Saturday and win by a margin of two points if they are to be the winners of this tournament. By the time this article goes to print you may have news of what happened.

The question I have is if we win this tournament are we ready to compete in the Asian 5 Nations with countries such as Japan , Korea and Hong Kong .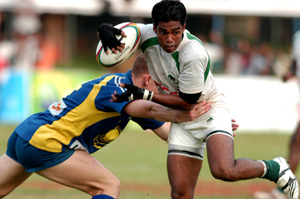 Can Sri Lanka achieve their goal?


In the match against Singapore Sri Lanka held against the heavy Singapore side in colder weather for a 20 all draw in Tainan. At the end of the first half Sri Lanka lead by 10 points to 3 playing with the strong wind blowing across the park. On resumption the Singapore side scored in the 18th minute to level scores. Sri Lanka scored in the 30th and 34th minute to take what looked like a commanding lead of 20 points to ten. Singapore scored off a penalty in the 36th minute to narrow the lead to 20 points to 13. What I believe was the turning point came as we kicked the ball direct into touch from the kick off after Singapore scored. Singapore applied pressure from the centre scrum and kicked into the Sri Lanka 22. Under pressure Sri Lanka conceded a penalty and had to defend hard 10 meters from the goal line. Singapore leveled scores after Sri Lanka conceded a number of penalties in their attempt to desperately hold on to the seven point lead. Singapore scored in injury time and the try was converted making the scores twenty all.

What I am trying to get at is the lack of experience that contributed to the inability of the Lanka side to hold on to a ten point lead that they had with 4 minutes for full time not considering injury time. Then again they kicked incorrectly thus putting pressure on themselves. The Back division of Sri Lanka was a young lot without experience but with talent. They attacked and scored defended and tackled to have a lead of 10 points with only the milk to be added to complete making a good cup of tea. Into injury time and being pressurized required the man with the ball to put away into Singapore territory. Instead he chose to run and when tackled held on desperately so that the ball will not be taken from him. End result a penalty which Singapore exploited and scored and converted to level scores. Who is to be blamed for this? Surely it should not be the boys who played well. It should be those who niggle making issues more important than the outcome. This denied the experience of at least one man in the back division.

Even if we win on Saturday can we be a competitive competitor than being a mere punching bag?. What do have to build a side that is capable of fighting with the best? We need a side that has the technical skills and the mental strength to stay on top. We need to build the skills with a plan. One cannot expect a coach to do basics when you are at the National level. It must be planned and school and club coaches trained to meet the requirements.To be mentally prepared you should know whether you are paling in advance and with whom you are playing with. Unfortunately the side shows never presented the possibility of seeing a team working together. Thus there is a need to get away from all that is external and concentrate on the objective. That is to play and win to be a force in Asian Rugby.

You think that will happen? Not easy as people in the region ask you as they meet in Taipei what is happening to rugby in Sri Lanka. Everybody seems to know something about the scene. Who is at blame is not their concern. The question asked is "are these boys affected? Or will they be affected?." Are we the centre of attraction or is the proud history being prostituted without a cause?