Tucked away just outside the limits of Colombo is St. Mary's College Dehiwela a little school nestled behind St. Mary's church on Galle Road that has produced some of the country's most outstanding sportsmen, and a few academics as well.

Although not regarded among the elite, the school commanded tremendous respect particularly on the sporting fields of Sri Lanka during the 1960's and '70's so much so that as its 100th year celebrations rolls on, many people from all walks of life still reflect with awe and open admiration, some of those from St. Mary's who represented their country with dignity.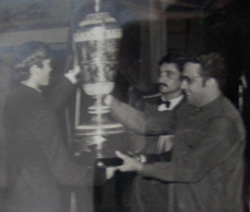 De Kauwe is awarded another trophy for his fantastic prowess in the ring.
It somehow reflects on their early grounding and perhaps the lyrics of the school song which contain the words, "Our hearts and hands and lives we'll give, for our dear land".

Boxing always comes foremost to mind when you talk of the boys from St. Mary's because they produced the best boxers of the late '60's and early '70's in a dominant era in schools for the Marians as they were known. St. Mary's in those glory days were coached by the late and great Joe Rodrigo and later Douglas Pereira and schoolmaster E.L De Souza, dominating the plum of schools boxing, the all island schools Stubbs Shield championships, the Junior championships and Novices and Intermediate meets and the traditional Colombo versus Outstation schools which were the leading encounters planned annually by the Amateur Boxing Association (ABA) of Sri Lanka, and were the envy of all the elite schools in the country for their undisputed superiority in the sport.

During that era where Colombo schools dominated most sport, this was possibly the only sport that the outstation boys beat the pants off the affluent Colombo lads.

In fact the Marians won a hat-trick of Stubbs Shield trophies before being surprised in their fourth attempt in 1974 when the gap between themselves and the other schools closed dramatically to see them go down to Zahira College Maradana in their bid to emulate Royal College as the only school in the history of boxing to win four consecutive Stubbs shield championships as way back as in 1917. A string of upsets which saw some of their stars go down to lesser known opponents saw them lose their grip on a trophy they had come to call their own.

Names such as Chavo and Millon De Kauwe, Bernard and Reginald De Zilva, Douglas Pereira, Ernest and Hans Van Cyulenberg, Godfrey and Adrian Van Heer, Andre Vanderwert, Lucian Crozier, Adrian Foulstone, Wasantha Perera, Nigel Jansen, Terry Varney, Elsworth Felsianes, Raymond Rodrigo, M.L Peiris, Wendall Mack and Milroy Byrde just to name a few, many of them now living here in Australia, and some spanning the globe, are names that most sport fans in Sri Lanka remember for their polished pugilistic skills that brought fame to college and country.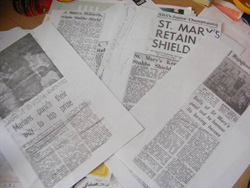 Collection of paper cuttings on their achievements
Out of the above named bunch, Chavo De Kauwe, Douglas Pereira, Hans VanCyulenberg and Bernard De Zilwa were stand outs for their school and country being regularly selected to fight in international competitions. De Kauwe, Pereira and VanCulenberg were Sri Lanka's aspirants at the Asian Games as well.

De Kauwe was a household name in Sri Lanka boxing circles being the only man to win Silver at the Asian Championships in Thailand and according to reports from Bangkok was robbed of Gold due to partisan judges favouring the host nation's fighter. He was described by a Thai journalist as a "Typewriter puncher" for his rat-a-tat fist speed and quicksilver footwork.

Outside of boxing, the school also excelled at wrestling, producing some of the best in the land notably national champions Sunil Fernando, Merry and Noble George, while they were no slouches at Rugby Union, Cricket and Basketball being in the forefront during their heyday. They were deprived of more glory at the time due the discriminatory sporting structure that relegated some schools to a lower rung an aspect that has now been justly addressed and rectified in Sri Lanka sport much to the benefit of the country.

One of the most talented Marians not to have played for Sri Lanka was brilliant cricketer Bernard Rulach, who had the credentials but not the "right" school background to warrant his place to play for his country. Anyone who disputes that is living in denial, as I distinctly remember him pushing for national selection and being given the chance to prove himself and when he did well in the "Trials" was still mysteriously overlooked. Rulach would have been a modern day hero of world cricket because his crash and bash approach to the game would have put him in the forefront of the new style of the game particularly the Twenty20 format. He was in the Sanath Jayasuriya mould.

We would not have had the joy of seeing a Sanath Jayasuriya, Marvan Atapattu, Lasith Malinga, or Ajantha Mendis if not for the sensible turnaround in thinking in modern day Sri Lanka.

Many Marians however, played rugby and cricket at club and defence forces level after leaving school rubbing shoulders and excelling with the best players in the land. Another talent associated with the boys from St. Mary's is music with some of the top notch musicans in Sri Lanka produced by the school. The school boasted one of the best choirs that were prominent at inter-school competitions in the country. They were ably coached by two of the best voices in the land Estelle and Douglas de Neise.

Tyronne De Kauwe, brothers, Trevine, Dion and Chavo, Francis Porrit and Merry George and a few others also played "Sara" cricket during different stages of their lives instilling the Marian presence at the top level of domestic cricket in Sri Lanka.

After years of writing on schools, people, events and achievements in Sri Lanka's highly diverse society, it gives me an inner glow to write about my old school in which I enjoyed some of the best and most memorable days of my life. Many of those names mentioned above were from my era, some classmates, and others who I played sport with, and our bond is still as strong as it was when we were little men.
The Old Boys Union (OBU) of St. Mary's in Australia are organising a gala dinner dance to celebrate 100 years of the College's history on November 22 at Good Shepherd Hall in Glen Waverly and part of the proceeds from the function will be channelled to the school to help in its badly needed upgrade and to provide better facilities for the students and teaching staff.