St Peter's captain Angelo Perera sent the Nalanda bowlers on a leather hunt when he slammed a record breaking 239 runs in just 206 balls as the home made ended their innings making a massive 501 in only 98.1 overs in their Under 19 inter-school cricket match concluded at Bambalapitiya yesterday.

The Sri Lanka youth players knock over shadowed the fight back of Nalanda's Tharindu Vidanapathirana and comprised 24 boundaries and five sixes. He was also involved in two century stands -- first for the fifth wicket of 121 runs with Shivanga Ranasuriya and then the other of 158 for the seventh wicket with Akshu Fernando.

Angelo in the process eclipsed a Peterite record that stood for 46 years by overtaking the knock of 235 made by Tyronne Le Mercier against St Anthony's in the year 1962.

The score of 501 incidentally is also a ground record and the highest scored by St Peter's against any team.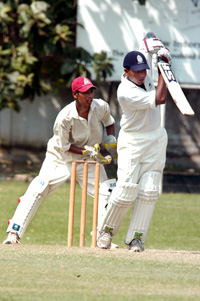 Peterite Captain Angelo Perera in complete control against the Nalandians at Bambalapitiya yesterday. Pic by Ranjith Perera

Another probability record is the 456 runs scored by St Peter's in a day which could be the highest score by a single side in an inter-school encounter. The Peterites were 45 for 1 when play resumed yesterday and when they ended their innings eight overs of play were left.

Nalanda 295 in 86.3 overs (Tharindu Vidanapathirana 110, Chandimandi Rodrigo 49, Mateesha Nanayakkara 41, Seshan de Silva 32, Dinesh Gunawardena 21: Chathura Peiris 5 for 58, Vinod Perera 3 for 66) and 30 for 2 in 7 overs

St Peter's (45/1 o'night) 501 in 98.1overs (Angelo Perera 239, Shivanga Ranasuriya 78, Akshu Fernando 42, Isuru Peiris 30, Andre Berenger 26: Nipun Karunanayake 3 for 89, Dinuk Jayasinghe 3 for 90, Adeesha Nanayakkara 2 for 63)

Dilrukshan and Dharshana shine

A match bag of 10 for 169 by right arm off spinner Dilrukshan Jayawardena and a ton and half ton by Dharshana Liyanage were the highlights of the drawn inter-school match between Dharmapala and S. Thomas' concluded at Pannipitiya yesterday.

S. Thomas' 252 for 9 declared in 64.1 overs (R. Nirushan 67, Dimithri Dolapihilla 58, Chamal Fonseka 57, Adrian Kerner 22: Dilrukshan Jayasundera 4 for 58, O. Attanayake 2 for 12, D. Ratnayake 2 for 62) and 223 in 56.4 overs (Kavindu Perera 47, Chamal Fonseka 43, H. Fernando 28, Fahim Saleem 21, Pasan Wijewardena 21, Ravin Nirushan 20: Dilrukshan Jayawardena 6 for 111, Tharindu Gunatilleke 2 for 60)
Dharmapala (116/0 o'night) 213 in 44.5 overs (Dharshana Liyanage 103, Nipun Pavithra 60: Chamal Fonseka 6 for 62, Fahim Saleem 2 for 5, Chulaka Kumarasinghe 2 for 30) and 75 for 1 in 10 overs (Dharshana Liyanage 50, Nipun Pavithra 24 n.o.)

Match drawn at Ananda Mawatha

The match between Ananda and Wesley concluded at Ananda Mawatha yesterday ended in another draw. Ananda chasing a target of 56 runs in six overs finished on 41 for 6.

Ananda 256 for 8 declared in 72 overs (Prabodha Seneviratne 72, Udesh Nadiranga 46, Madumal Wijesinghe 46: Dulanjana Wijesinghe 5 for 77, Sachin Jayawardena 3 for 64) and 41 for 6 in 6 overs (Ruvinda Sharmen 21: Pasan Samarasekera 3 for 19)

Wesley (90/4 o'night) 140 in 66.3 overs (Malinda Pelige 31, Javed Bongso 20: Mateesha Perera 3 for 19, Vinura Janodha 2 for 22, Sachitra Perera 2 for 22) and 171 in 69.4 overs (Pasan Samarasekera 64, Dulanjana Wijesinghe 26, Javed Bongso 24: Mateesha Perera 4 for 34, Sachitra Perera 3 for 46, Ruvinda Sharmen 2 for 23)

Mahanama rout Zahira

Mahanama Colombo routed Zahira by an innings and 80 runs in their Under 19 inter-school cricket match concluded at Maradana yesterday. Mahanama taking first lease of the wicket made 265 with top scorers being Sajith Ruberu and Duleeka Tissakuttige. Zahira in their turn were bowled out for 107 with Maduka Dharmawardena and Sajith Ruberu doing the damage. Zahira made to follow on with a deficit of 158 runs were able to muster only 78.

Mahanama 265 in 71 overs (Sajith Ruberu 62, Duleeka Tissakuttige 51, Dhanushka Gunathileke 42, Sajith Nissanka 29, Maduka Dharmawardena 22: Imras Razik 3 for 23, Mohamed Irshard 3 for 69, Mohamed Sameer 2 for 31)

Zahira 107 in 36.5 overs (Mohamed Ulfath 16, Mohamed Irshard 15: Sajith Ruberu 4 for 2, Maduka Dharmawardena 4 for 52) and 78 in 33.5 overs (Shabbir Shibly 16 n.o.: Tharaka Cooray 3 for 22, Sajith Nissanka 2 for 8, Maduka Dharmawardena 2 for 23)