Turkish tele series with a real story
'Muthu Ahura', award winning tele drama in Sri Lanka
View(s):
'Muthu Ahura' (The Ridiculous Flowers), a Sinhala dubbed versions of the award winning Turkish tele serial is now being telecast on TV Derana on every weekday from Monday to Friday at 9 pm.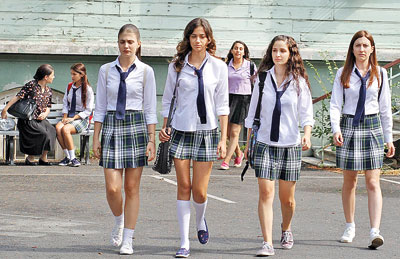 Oroginally titled 'Kırgın Çiçekler', the drama, youth and family sequel was screened on ATV in June 2015 are played by Silk Karapınar , Özgür Çevik , Biran Damla Yilmaz , Gökçe Akyıldız , Hazar Motan , Cagla Irmak and Aleyna Solaker in the main roles.
The play received the best series award at the award ceremony organized by Istanbul Gelisim University and it was nominated for the Program Award Best Series Drama at the Seoul International Drama Awards 2016.
The story revolves around Eloul, a sixteen year old girl who undergoes sexual harassment in the hands of her stepfather. When she decides to confide in her mother, she was percieved as a liar, and was taken to an orphanage. There, she meets girls who each have their own stories to tell. As their lives become etwined, they stick together and are no longer friends, but sisters, who would do everything that can be done to protect one another.
"Instead of usual fantasy filled with glamour, this is a true story that took place in Turkey. It was done by Asian Television (ATV)," said Chamara Nugaliyadda the dubbing director of the drama. The TV series has 180 episodes and dubbing of 30 have already completed.
Presented by TV Derana Dubbing Unit, production crew of "Muthu Ahura' include Charith Kothalawala as the executive producer, Chamara Nugaliyadda as the dubbing director, Mawlitha Tojo assistant producer and the script and translator is shashikala weerakkody and audio mixing and editing are by Dilan lokuliyanage.
The team of dubbing artistes include Achini Nishadika, Sachithra Weerasinghe, Sneha Wasundara, Wasanthi Ranwala, Inoka Botheju, Silidu Ranwala, Tharuki Amaya, madara Jayarathna, Dinushi Sudarshani, Udani Rathnayaka, Supul Sasmitha, Supul Sasmitha, Thilina De Silva, Ashan Chandrasena, Ashan Chandrasena, Lakmaal Weerasinghe, Kasuni Kaavindi, Ravidu Gamini, Malkanthi Jayasinghe, Vihangi Onethra, Manula Randika, Jayantha Amarasinghe, Nimal Jayasinghe, shenal gunathilake and Geetha Kanthi.