Needlework that's more than just Golden
By Nirmalie Alahakone
Step into the expanded Golden Needle clothes wear shop, where you can have your favourite dress patterns weaved
View(s):
Off-Havelock road, down a small lane is Golden Needle. A shop that specialises in ethnic wear. It's been around for awhile, since March 2015, but it's got bigger and better. Relaunched in a much larger space last week, it now offers more designs, and more choice – including a men's wear range.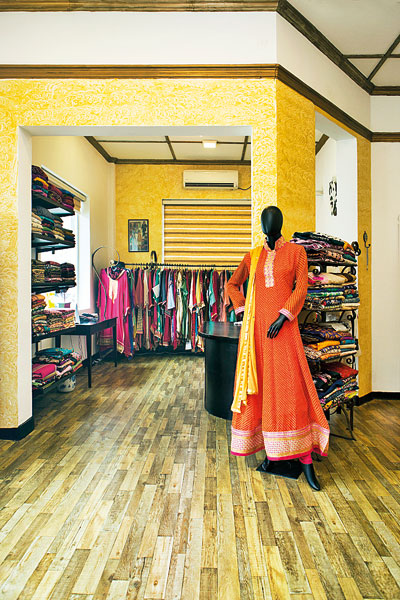 Owner and designer Hawwa Kareem Yaseen is carrying on her mom's unique talent for creating bespoke clothing. "Mostly, I focus on ethnic wear. I have my own designs. We live in a tropical country so people need soft cotton clothes," she says. Her customers seem to concur, "Customers come and say we got it from you and are very happy with the fabric," she adds.
Yaseen takes after her mom, who registered the Golden Needle label in 1995 but has been making beautiful garments from way before that. "Everything in this store is one of a kind. And we can adjust it to fit you," she points out. At Golden Needle, you can also bring a fabric of your choice and have it tailored to your design. Or, you can get a beautiful creation with some valuable imput from the designer/seamstress. "If customers bring fabric I make to order," confirms Mrs. Yaseen. Her designs are often showcased at Fashion Shows at Coffee Mornings and similar social events. "All the clothes I design are wearable, and we sell most of the designs then and there."
Golden Needle now retails the Mosh brand of linen shirts by her son Moshin Yaseen. These comfortable shirts are adorned with tasteful and delicate threadwork designs.
In addition to in-house designs, you can also browse Indian designer wear and pick up accessories such as slippers and shawls. There are even Shalwar sets which you can mix and match and have it designed to suit your taste. "We can alter the neckline, cut, and length to whatever the customer prefers," points out Nabeela Yaseen, third generation designer. Nabeela plans to launch her range of ethnic-looking western wear soon.
Also on the cards is an exclusive bridal range, which they hope to launch in a month.
If you like comfortable, cotton, ethnic wear, you might want to check out this one-of-a-kind, no-longer-little shop
If you like comfortable, cotton, ethnic wear, you might want to check out this one-of-a-kind, no-longer-little shop. You can also take a look online by logging onto the following Facebook pages.
facebook.com/goldenneedlelk/
facebook.com/moshlifestyle