Thinking afresh about what you eat
By Musaffa Mafaz
View(s):
The preservative-driven culture of convenience needs to be changed to make people healthy, says this young entrepreneur. "I want people to know this message and make a conscious decision."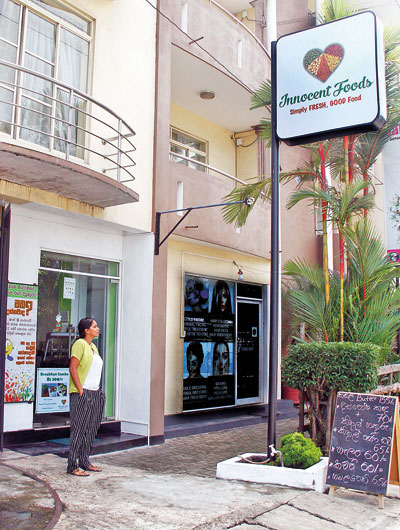 It was in 2015 that Chamindri Katuwawela and her mother launched their company "Innocent Foods" with the aim of bringing healthy and affordable food to the average Sri Lankan. The duo's speciality is Hummus, a creamy paste made of chickpeas and tahini, popular in the Middle East.
Graduating from the School of Economics at the University of Nottingham in 2014 and having studied for her Master's in public policy and human development, at the United Nations University in Netherlands, Chamindri, now 26, says she always wanted to do something for the benefit of Sri Lankans.
Their objective is accessibility, affordability and availability of good food in the market that Camindri sees as a "big gap". Hence she reviewed the National Nutrition Policy in 2016 while initiating her own movement to promote a shift in Sri Lanka's food consumption culture, focusing more on the health and nutritional impact.
"They call it fresh but from all the vegetables to the little piece of mango we eat, they're full of pesticides. And then you have fresh milk, fresh yoghurt, lasting for months on the shelf. How is it fresh if it's lasting on the shelf for six months? The sauce you buy has a shelf life of two years. Ours is just three months. A packet of biscuits lasts around two years and that's what we give our children," she points out.
But wanting to put her product into the market she was faced with an uphill challenge. "They said, 'The taste is great, we love how it looks but your shelf life is not long enough, so go back to ITI (Industrial Technology Institute) and work out a formula to increase the shelf life and get back'," she said.
"No artificial preservatives should be permitted. The world talks about Non Communicable Diseases and 40% of our national workforce suffers from NCDs including Cancer, Diabetes and High Blood Pressure," she said while reminding that the best thing to do is consume good food since 65% of one's health is determined by food.
Consequently she developed their company with a store and delivery chain where hummus and other products are sent to a few locations.
"I'm still not satisfied. We are available, we are affordable, but I have an accessibility problem. I want consumers to demand better from the food industry because the food industry is the biggest industry which owes the consumer in terms of ethics and responsibility."
Chamindri and Dr. Dula De Silva, the president of Nutrition Peoples Forum had compiled and presented a review to the Presidenial Secretariat with recommendations which she believes contributed to the 2018 National Nutrition Policy.
Their products, all vegan or vegetarian include Hummus in three flavours– Organic Pesto, costing around Rs.150, Organic Tomato sauce for Rs.350, fruit desserts and fruit drinks. Other items include porridge; Dasa Posha, kithul piti, kurakkan with jaggery, halapa, Sago with treacle (Pani Sauw), habala pethi cereal, chickpeas, green gram, Cowpea, oatmeal with fruits, and sugar free fruit muffins of various flavours.
'Innocent Foods' products are sold at Bohemian Quest, the Good Market shop and also at Park Street Gourmet.
"Right now we are talking to a few retail chains. I want the average Sri Lankans to have access to our products that's why I'm looking at big chains like Arpico," she said.
For more information see: www.innocentfoods.lk