Bigger and better experience at 'Big Bad Wolf Sale 2018'
View(s):

Known as the world's biggest book sale, 'Big Bad Wolf Book Sale' has return to Colombo for the second consecutive year. The Big Bad Wolf Book Sale is set to open to the public from 28 June until 8 July 2018 at the Sri Lanka Exhibition and Convention Centre (SLECC) with 1.5 million books at 60%-80% discounts. Book lovers can enjoy 255 hours of non-stop book shopping at the Sale, which will be open 24 hours a day throughout the 11 days of the event.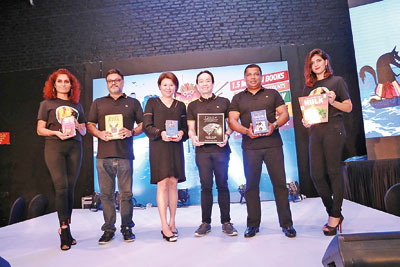 The book sale features a wide range of books across all genres, including fiction and non-fiction bestsellers, young adult fiction, as well as an extensive collection of children's books.
The media launch last week, saw the attendance of Andrew Yap, Founder and Managing Director of Big Bad Wolf Books, Dipak Madhavan, Partner of Big Bad Wolf Books and Nishan Wasalathanthri, Director of ProRead Lanka (Pvt) Ltd. The event is supported by The Ministry of Education of Sri Lanka. Event partner for the event includes, Bank of Ceylon – the official banking partner, Mobitel – the official telco partner, and The Capital Maharaja Organisation Limited.
'We are truly excited to be back in Sri Lanka with an even bigger and better book sale this year. Last year's event was a huge success and an eye-opener on how enthusiastic Sri Lankans are for good quality, affordable English books. We'll be bringing over a wider range of titles for book lovers in Sri Lanka this time around," shared Andrew Yap. 'We are grateful to our partners and other organisations who have pledged their support to empower Sri Lankans with more English learning opportunities'.
Speaking at the event was also Big Bad Wolf Books' local partner, Director of ProRead Lanka (Pvt.) Ltd, Nishan Wasalathanthri said 'We are pleased to bring the Sale back to Sri Lanka for the second time.Last year was the first time a book sale of this scale had ever been held at Sri Lanka and we pulled off an unforgettable event. We invite people of all ages to visit the Big Bad Wolf Book Sale this time around for an even bigger and better experience'.
Held in October last year, the Sale is returning earlier this year in June, much to the joy of eager readers. Readers can expect to find over 1.5 million new English books, ranging from fiction, best sellers, literature, non-fiction, business books, cookbooks, art and design, coffee table books and more, priced at 60%-80% off regular retail prices.
Parents can also expect an extensive collection of children's books, including bedtime stories, colouring and activity books, educational books and interactive books, all at 60%-80% bargains.
In an aim to make affordable English books available to all, Big Bad Wolf Books will also be giving books to communities in need through their Red Readerhood programme, supporting the Capital Maharaja Organisation Limited's 'Gammadda' initiative. Customers can participate in this worthy initiative by purchasing books at the Sale and donating them at the Red Readerhood booth.
As part of another initiative to advocate greater English literacy among people of Sri Lanka, Big Bad Wolf Books will be working with the Ministry of Education to provide local O/L top scorers with an opportunity to visit the international book sale. Last year, Big Bad Wolf Books invited top scholarship scorers from flood-stricken areas to the Sale and provided them with a trolley full of books to take home.
Selected invitees will have the chance to attend a special preview of the Sale on June 27 from 10.00am – 11.00pm, a day before it opens to the public. Visitors can win preview passes through contests on the Big Bad Wolf Facebook page and through their media partners.
Book lovers will also stand a chance to nab limited edition books, exclusive Big Bad Wolf t-shirts and collector's items at the Sale.
Aside from that, visitors can claim exclusive benefits at the Sale by signing up to be a Wolf Pack member here: https://www.bigbadwolfbooks.com/lk/register/english.