Vijayaba Supercross today
View(s):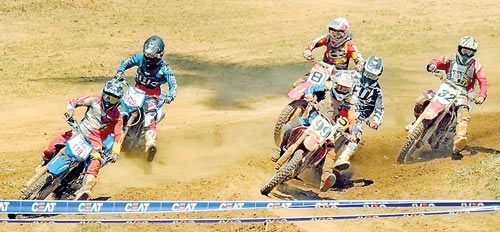 The Vijeyabahu Motocross organised by the Vijayabahu Infantry Regiment will be flagged off today at the Athugalpuraya Racing track in Anuradhapura. Over 100 drivers and riders are expected to vie for honours in 14 events. The winners of each category will be awarded cash prizes.
During the discussions and deliberations of this concept a consensus was reached to the effect that the most suitable location for the track was situated at the premises of Vijayabahu Infantry Regimental Centre. The Regimental Centre was duly notified of this progress. A unique track, thereafter constructed within the regimental camp premises in line with the international standards which assisted many a riders to improve their skills in Motor Sporting.
With the proposals made by Sri Lanka Racing Riders' Association and to ease of the burden of finding funds required to look after the welfare of the families of fallen heroes and injured soldiers, the Regiment decided to generate required funds by conducting Motocross event within the Regimental Centre premises. This is the only motocross racing track in the island where a spectator can watch the full distance of the track from any one point of the spectator area. Due to this extra ordinary feature, the spectators have got a special interest to witness events at this venue. The length of the track has been extended to 1.9 km with immaculate planning since then.
Interestingly, internationally recognized riders who have taken part in the event, mainly from Japan an India have also rated this track as one of the best tough tracks in the world. Therefore to gain more experience and confidence, these international riders are also very keen to participate in this invent annually.  The aim of conducting the Vijayabahu Motocross is to find much needed funds required for an extensive welfare of the families of the fallen heroes and maimed sons of the Vijayabahu Infantry Regiment.   - SP