How can we curb Rugby violence?
View(s):

We are being hammered by a message I received: Joes players were assaulted at Bogambara. The message did not sink as I was seeing a broken promise at the CR. I was informed of a lesser version of a broken promise at Pallekelle. Dharmaraja College who also gave assurances to the school after they were found guilty of a bench man throwing a bottle joined to complete an unholy threesome.  Rugby is a beautiful game and people knew if there was a breach there will be punishment. Is the rugby field becoming a dangerous? Why and who is responsible for violence? To know who is responsible is useless as what is needed is a solution.

Some say bring foreign referees: I doubt this is a solution but giving into thugs and hooligans. Make this game one to enjoy and for kids to learn. If somebody is so desperate for a piece of metal buy it from a shop or stop the match and give them. Then people will realize who the bad wolf is.
Or pick some of them up and produce them in courts. When you are inside how many may come to see you? The wife may say if you went to see a match you should have enjoyed and come home. See the mess; my children cannot go to school. I still believe that the umbrella man, or the not so principled principal or the stupid father was put behind bars at least for few days. Things might not have gone this far.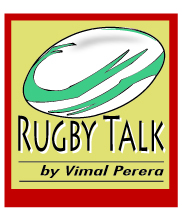 Why is there so much violence and abuse in School Rugby? I posed this question to Aruna Jayasekera the World Rugby Qualified Judicial Officer and Judicial Official member in ARFU.  "Misconduct is a result of lax disciplinary measures and the reluctance to be firm in handling issues". When the Judicial Officer System was introduced in 2014 for clubs there were a number sanctions imposed. The hearings were quick and stringent punishment were enforced and the SLRFU stood by. Disciplinary action was taken against 10 players who were cited after the Air Force Police match. Some were expatriates who were punished and the action was notified to their home unions and world rugby and those who left the country had to serve punishment in their home country.
By 2015 the judicial inquiries were down to a minimum and Citing was also reduced. This was because those involved knew of what was in store. The schools section has to take a cue from the Governing Body and take action where necessary. He asked whether there was adequate and stringent action taken after the first two issues.  The school masters must run the tournament as they have the relationship with the students. When it comes to professional guidance it is the SLRFU that has the tools such as qualified judicial, citing officers etc.; which could help clean the feces. It is also the SLRFU that can impose a universal punishment. Last year the school section took action by reporting and banning spectators. But this year the violence was more physical than the verbal but the action is lukewarm.
The on field sanctions escalate in application but the administration is in reverse gear while others think that muscle talks. The three issues sees an escalation. In two it is disgusting repetition.  Have a system where if you get so many red cards or yellow cards; points are deducted and down you go in the league. Why not do something to supporters.  The host will have to take the blame as some may take advantage. It is your party so throw out those who are misbehaving. We have bought a ticket they will say. Here is the refund but get out of my party. Otherwise use expert video-graphers to record and lodge a complaint with the police and have legal action taken. When the wife and kids start shouting and asking have we got to suffer because you went for a match? The truth will hurt.
Those who want to go further in the interest of the society and the game can buy space in a paper or a broadcaster and show the public these hooligans or the so called executives. Some might lose their jobs. Let them and their families face the consequences for the betterment of the many kids.  Sponsors should develop KPI's and have a demerit system which will lead to not releasing the final funds. Let the school know what they are in for.  If you are seen in a house of ill fame or keep company with those that come out of them the world knows who you are. There is no point in saying the Police is to be blamed as they did not do a good job by closing these. If you have nothing else to do you may hang around the police station as you can sell something to those who may have been brought with less clothes.
Science is not playing in the knock out and say they do not have funds and would like to spend what they have on juniors. A wise decision and may be the Ministers can buy them a trophy and build a monument for thinking of others. There are others who say the Sports Minister must intervene and give funds. Easy to say and then picket protesting against VAT increase. The authorities of Science and old boys must be congratulated for trying to live within means. "We have done our best and have to think of younger brothers.  Trinity too is not playing. A good decision or else you give fodder to set fire.  Some want to say we will prove that we are the best again while others say we will show them. What will you try to show or repeat? Another round of physical violence or being "pariahs" on social media?
Look at the triad. One is trying to do something while his followers still want to be pedigreed slum dogs. The other seems to be unable to handle the bad boys. The third is blaming the man next door for the pregnancy of his wife.  Referee Cader had to be whisked protected by bouncers to the CR club house which was not where his changing room was. The cry of no assault must be coupled with why had the referee to run to the closest shelter. I am sure the two Ministers on the ground saw what happened and the colour is more related to their politics and they cannot ask what color was that. The Assistant referees were under similar siege and it was pathetic to see the officials being shielded and pushed as though they were reluctant animals being taken to slaughter. The security prevented the officials getting physically abused.
Theoretically the responsibility lies with the host and Thomas College will have a lot to answer.  The Bizarre beating of Players of St Joseph' s at the match against Dharmaraja at Bogambara started with a minute more on the clock. Six players from St. Josephs were hospitalized. It was the players. There is no point in issuing a note to the media that the problem was because of bad refereeing. If the problem arose due to bad refereeing how come there was no dissent on the field and the problem started with a minute to go. On the other hand did anybody at least come close to physically or verbally abusing the referee?  The referees should take leave and ask those who can read English to do it on the pitch. The law book does not say about a hooter but it is used.
* Vimal Perera is a former player, coach, referee and an IRB Accredited Referees' Educator