Million rupee Cycle race from Colombo to Batticaloa
By Susil Premalal
View(s):
Sri Lanka Telecom (SLT) unleashed what could be the country's highest ever rewarding and lengthy cycling rally, the SLT Speed Up Cycle Tour. The five-day race flagging off from Colombo will end in Batticaloa, covering approximately 780.5 kilometres and promises a grand cash reward of over Four Million Rupees.  By allocating what is considered as the highest ever prize money to be given away for cycling in Sri Lanka, the organisers look long term with the aim being the Asian Championship. Sri Lanka's most celebrated and elite class cyclists are expected to compete at this comprehensively-planned cycle tour according to Cycle Federation of Sri Lanka (CFSL) officials.
"We already have the South Asian gold medal winner with us but our aim goes beyond it. We intend to produce a top winner at Asian Championships from our existing talent and by taking this tour across the country, especially the usually untouched areas, we also hope to attract potential cyclists among the youngsters," stated Group Captain Kithsiri Leelaratne, the Secretary of CFSL.  For his untiring effort in becoming the best among the rest, the overall winner is set to receive a grand cash award of One Million Rupees, the first-ever time such a huge amount to be awarded for the winner, in addition to an attractive tailor-made trophy.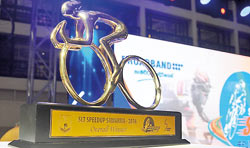 The overall runner-up will receive Rs. 500,000 as cash award, the highest known amount presented as cash reward prior to this event. The third will receive Rs. 300,000.  The five-day tour which will start from Colombo on July 27 will travel across 12 districts before reaching its final destination — Batticaloa on July 31. The entire race is divided into five stages and each stage winner will receive R. 20,000 in cash. The race will include more than 12 sprint phases and the overall best is set to receive Rs. 100,000 in cash. In addition the best upcoming cyclist picked from competitors of the age category of Under-23 is set to receive Rs. 100,000 as a token of merit.
The best team will be ensured with Rs. 100,000 as cash award.  According to Leelaratne, the organisers have decided to provide a daily allowance of Rs. 2500 to each cyclist competing. They will also be provided with an insurance cover worth Rs. 500,000.  The first stage which will start on June 27 in Colombo will reach Matara covering a distance of 150.7km while the second stage will cover a distance 150km from Matara to Ratnapura. The third stage will begin from Ratnapura and will reach Kandy covering a distance of 127km. The fourth stage will be from Kandy to Anuradhapura covering a distance of 149.8km.
The next two stages will be held on the last day of the tour — first from Anuradhapura to Polonnnaruwa followed by the second from Polonnaruwa to Batticaloa with distances 106km and 97km.  "It is a privilege to us at Sri Lanka Telecom to have this opportunity to organise the country's longest cycle race. As an organisation with our society's best interests at heart, we feel that the sport of cycling reflects a number of valuable qualities such as dedication, stamina and endurance that we at SLT value the most. We plan to do our utmost to ensure that the SLT Speed Up Cycle Tour an incredible success", said SLT's Chief Marketing Officer, Ajantha Senevirathne.