Plenty of condoms but no TVs in Rio athletes' village
View(s):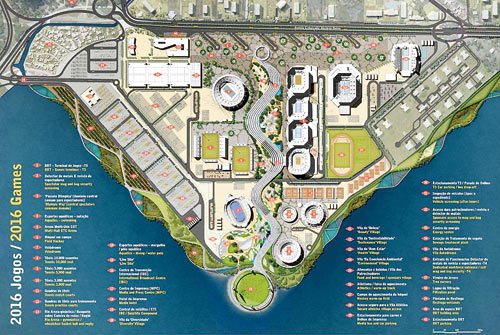 RIO DE JANEIRO, June 25, 2016 (AFP) – A 24-hour restaurant big enough to house jumbo jets, 450,000 condoms, a multi-faith worship centre and beds that extend to accommodate the lankiest of basketball players.  They are some of the attractions at the Rio Olympics athletes' village, which will open its doors in a month's time ahead of the August 5-21 Games, the first to be staged in Latin America.  In all, there are 31 buildings which can accommodate up to 18,000 athletes and coaching staff.
The walkways between the towers are full of greenery and water features, even if a favela (slum) can just be spotted outside the confines of the 2,909 billion reais (742 million euros/$835 million) project.  The village opened its doors to the international media this week.  "Today everything is white but there will be plenty of colours when the 207 national flags are flying along the Carioca," explained Mario Cilenti, the village executive director, as he pointed to the street bordering the complex.
The restaurant is huge with organisers claiming five Airbus A380 planes could be comfortably parked inside it.  It will serve 210 tons of food a day to competitors who can take advantage of the 7,000 seats available.  Athletes are due to start arriving on July 24.  Each of the 207 delegations has the right to have a welcome ceremony presided over by the "mayor" of the village, former basketball star Janeth Arcain, a two-time Olympic medallist.  Around 13,000 staff will be based at the village.  "Next week we will have practice drills for potential situations that could arise. We have to be ready for everything," added Cilenti.
- Mosquito protection -
There are 3,604 apartments with two, three and four beds.  "They are not luxurious, they are basic but with all that the athletes need for their tranquility and mental preparation," said Carlos Nuzman, the president of the local organising committee.  There will be no televisions in the rooms as a result of the budget being chopped. Screens instead are set up inside communal areas.  There are 19,000 beds of two metres in length which can be extended by up to 30cm for the larger athlete.  All rooms are equipped with anti-mosquito electronic devices in a reflection of fears over the Zika virus.
There is also a multi-faith worship centre catering for the world's major religions.  The Islamic space will have separate rooms for men and women.  Once the Olympics and Paralympics are finished, the apartments will be sold off.  International Olympic Committee president Thomas Bach has already declared the complex "one of the most beautiful" he had seen.  "It is the heart of the Games and it's from here that the Olympic message will be spread to Brazil and the world," he gushed on a recent visit.  "Athletes will be taking part in the most difficult competitions of their lives and, at the same time, will live together in peace and with respect for the entire world."