Hearts and lungs in his hands
World renowned British transplant expert Prof. Stephen C. Clark talks to Kumudini Hettiarachchi
View(s):
Wagging her finger, it was his biology teacher who told him categorically that he would never be a surgeon, for his rat-dissection he confesses was "rubbish" securing him only 2 lowly marks out of 10.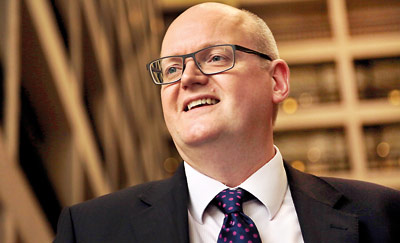 "I'd love to track her down," he smiles benignly for now he is not into rat dissections but life-saving heart and lung transplantation as well as heart surgery.
On a whistle-stop tour of Sri Lanka, just for a hectic 36 hours, it is at the Cinnamon Grand Hotel that we meet the Director of Cardiopulmonary Transplantation at Freeman Hospital, Newcastle-upon-Tyne, United Kingdom and Consultant Cardiothoracic Surgeon, Prof. Stephen C. Clark, for an exclusive interview sandwiched between numerous meetings with senior government officials and many local medical specialists.
He is the eminent surgeon who has held hearts and lungs galore in his skilled hands and given a fresh lease of life to critically ill men, women and children.
This, however, is not his first visit to this isle. He was here two years ago with wife Alexa, a Consultant in Palliative Care, and their three sons, visiting "everywhere" – Yala where they saw leopard and bear, the lush tea-plantations of the hill country and the historic cities of Kandy and Galle.
His pathway into the heart and lungs began with Prof. Clark "being into" biology, chemistry and physics as a teenager, with his teacher suggesting that he should do medicine. Born in London, he had spent his childhood in Rossett in Wales, just across the Welsh border.
Medicine did follow at the Nottingham Medical School but he was more interested in Accident and Emergency Services as a student, although later on as a young doctor it didn't excite him adequately.
Invited to see a heart operation in 1990, as he peered over the top as the surgeons went about their work inside the open chest, he was fascinated. The conviction that "it was what I wanted to do" came at that moment and he has not veered from that path since then.
Training followed thereafter under one of the most famous heart surgeons, Sir Magdi Yacoub, at Brompton Hospital and a stint under the guidance of Sir Terence English, one of the first surgeons in the United Kingdom to venture into heart transplants at the Papworth Hospital, Cambridge.
As Prof. Clark's interest burgeoned, he headed for Toronto, Canada, working under heart surgeon Tirone David for a year before returning to Newcastle-upon-Tyne, gaining eminence in his own right, not only as a Transplantation Surgeon but also a teacher. His curriculum vitae which runs into 72 pages is a tiny testament to his achievements.
The people on whom he performs transplantations "are very sick, all expected to die within a few weeks or months"without a transplantation. Not everyone also survives after transplantation, says Prof. Clark with a tinge of sadness but to see those who do, quite a number of them, is "rewarding".
It is with poignancy that he dwells on just one case — a 16-year-old girl from Ireland. Having cystic fibrosis, she was dying and there simply were no offers of lungs for transplantation. Time was running out. Her condition was deteriorating rapidly and there was no donor.
In desperation, he and his team put her on an artificial lung to buy time for her, a few extra days, hoping against hope that the phone would ring.
"End-stage lung disease is horrible," says Prof. Clark, "with days and nights of agony. Lives are torturous".  The phone did ring and she did get a lung. When he saw her next she was sitting up, breathing on her own.
She shook his hand and he thought she was thrilled to be breathing normally. But he was surprised at what she told him…."When I look in the mirror," she had said, "for the first time in my life my lips are pink." Earlier, her body had been so starved of oxygen that she only saw blue lips.
When asked how many transplants he has performed, Prof. Clark hastens to reply that he doesn't know. He is quick to point out that there should be "no big-headedness" because of the number of transplants he has done. "We are doing our job not for glory or adulation but to save lives," he says with humility.
Even one death makes him feel a failure. And death does come sometimes, for it is "the sickest of the sick" whom he operates on, having to put their bodies through much trauma during this enormous surgery.
"We tend to remember everyone who dies more so than the patients whom we have saved from death," adds Prof. Clark.