Frosty Fab Foods holds tree lighting
View(s):

Popular food chain Fab Foods held their second annual Christmas tree lighting on December 1 at their Castle Street outlet in Colombo 8.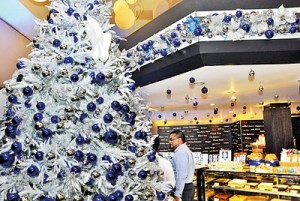 The event was based on the theme of the popular Christmas carol 'Frosty the Snowman' and all decorations matched the theme.
The aim of the event was to celebrate the start of the festive season with all their loyal employees who sang Christmas carols while the invited guests joined in.
A surprise appearance by Santa Claus, with goodies for everyone present, was a special treat– especially for the children present.
'Milk chocolate with cinnamon', a special Christmas drink was introduced along with Fab's Christmas savoury range which includes a roast turkey sandwich, a turkey pie, a turkey and potato quiche, a turkey burger and a turkey and ham bun.
A Christmas meal consisting of a seasonal roast with trimmings and salad as well as a New Year meal with milk rice, fish ambul thiyal, fried onion, maldive fish and cashew nut sambol and a katta sambol are all offered during this festive season.
Seasonal sweet treats such as mince pies, rich cake, and yule logs will also be available later in the month.