FGLF programme is out; a few surprises too!
View(s):

The Fairway Galle Literary Festival announced its programme this week delivering on the promise of a uniquely Sri Lankan feast of art and culture.

Though the list of participants was released weeks ago, the festival programme still has the odd surprise, the biggest of which is that Amitav Ghosh, who earlier this year released the final book in his internationally claimed Ibis trilogy, will also be in Galle in January.

Ghosh, who is known for books like 'The Calcutta Chromosome,''The Glass Palace' and most recently 'Flood of Fire' (a work of historical fiction set during the First Opium War),has collected awards ranging from the Padma Shri – India's highest honour – to the Dan David Prize which comes with a cash prize of $1 million.

Visitors to the festival will have more than one opportunity to encounter their favourite writers –for instance, noted British writer Sebastian Faulks will sit down to a literary lunch to talk about his work on a new James Bond book, will speak on a panel about comic writing and then lead a workshop on writing historical fiction before appearing in a session to discuss the trilogy that established him as a major British voice.

A notable new addition to the programme will be the Fairway Celebration of Sri Lanka Series which will showcase prominent writers and poets from Sri Lanka, including Shyam Selvadurai, Edmund Jayasuriya, Ariyawansa Ranaweera, Dr. Sunil Wijesiriwardena, Jayatilaka Kammallaweera, Nandana Weerasinghe, Ramla Wahab-Salman, S. Pathmanathan and M. Nuhman who will be speaking on subjects as diverse as the memories of Sri Lanka's northern Muslims and contemporary Tamil poetry.

The events in Kandy and Jaffna promise a more intimate festival experience with a much shorter but still appealing list of events and appearances including a panel discussion on Sinhala poetry, a tour of Kandy with architect Channa Daswatte who will speak of its history as a centre of power and ritual, and in Jaffna what promises to be an interesting conversation with journalist Rohini Mohan (recent winner of the Shakti First Book Award for her non-fiction book about Sri Lanka 'The Seasons of Trouble') as well as appearances by Sebastian Faulks, Padma Viswanathan, Kenan Malik and Geeta Ramanujam. All events in Jaffna are free.

The Festival will also locate itself prominently on the world literary map with the announcement of the winners of multiple prizes including the Fairway National Literary Award on the 15th, DSC Prize for South Asian Literature on the 16th and the inauguration of the Edward Lear Prize for Poetry on the 17th in Galle.

The full list of sessions for Kandy (January 8 – 10), Galle (13 – 17) and Jaffna (23 -24) are available at www.galleliteraryfestival.com.

The box office opens on December 11 and is online at wow.lk. Colombo box office: Wow.lk, 176/1, Thimbirigasyaya Road, Colombo 5. Kandy Box Office: The Empire Cafe, Temple Street, Kandy. Galle Box Office: 25 Leyn Baan Street, Galle Fort.

Author of a national bestseller, and a writer who explores

Our new mini-series in collaboration with the Fairway Galle Literary Festival will over the next six weeks introduce you to visiting authors through our column.

Follow along and you will stand to win two full festival passes in our draw. All you need to do is answer the questions we will pose later in our series. In the meantime, get acquainted with visiting authors and plan for the sessions you simply do not want to miss.

Padma Viswanathan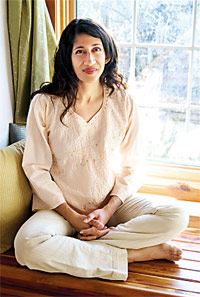 Born in British Columbia, Padma Viswanathan grew up in Alberta. While writing her first book, she told an interviewer that she was "working in community and educational theatre; teaching ESL; freelancing as a journalist; going to grad school; teaching writing courses; and occasionally receiving grants not to have to do much of the above for certain blessedly focused periods of time."
Her debut novel, The Toss of a Lemon, was inspired by her own family's history and in particular, her grandmother's story of her own life as a Brahmin widow left with two small children after her astrologer husband's death.
The novel was widely acclaimed, was published in eight countries, a bestseller in three, and a finalist for the Commonwealth (Regional) First Book Prize, the Amazon.ca First Novel Prize and the Pen Center USA Fiction Prize.
Viswanathan's second novel, The Ever After of Ashwin Rao, has been published in Canada, the USA, India and Australia. In Canada, it was shortlisted for the Scotiabank Giller Prize and was a national bestseller. She has also published several short translations of Brazilian fiction.
Hugh Thomson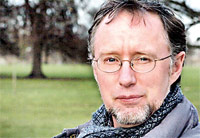 The New York Times Book Review once said of Hugh Thomson that "Everywhere Thomson goes, he finds good stories to tell," another interviewer described him as that rare species: 'a writer who explores, rather than an explorer who writes.'
Thomson has led several research expeditions to Peru looking for – and finding – Inca ruins, which he has written about in an acclaimed pair of books, 'The White Rock' and 'A Sacred Landscape'.
His most recent book is The Green Road into the Trees: An Exploration of England, in which Hugh for the first time writes about his own country.
It won the inaugural Wainwright Prize for Best Nature and Travel Writing 2014.'Tequila Oil' was a memoir about travelling through the badlands of Mexico when he was 18, while his journey to a usually inaccessible part of the Himalayas on the border of Tibet is described in 'Nanda Devi: A Journey to the Last Sanctuary'.