IRB finds fault with Sri Lanka winger Nuwan Hettiarachchi
By Naushad Amit
View(s):
The International Rugby Board (IRB) has sent a letter to the Sri Lanka Rugby Football Union (SLRFU) stating that Sri Lanka winger Nuwan Hettiarachchi has been 'accused of using a banned substance' listed by the World Anti Doping Agency or the WADA. A copy of the letter also has been sent to Hettiarachchi, who is yet to be found guilty by the IRB pending an inquiry or a series of inquiries.
The IRB issued the letter to Hettiarachchi after the post-match urine sample collected, at the Sri Lanka vs Philippines Asian5Nation Top Division game in Colombo, tested positive. The 'A' sample obtained on May 17 and tested in a lab recommended by the IRB is said to have contained a banned substance by WADA.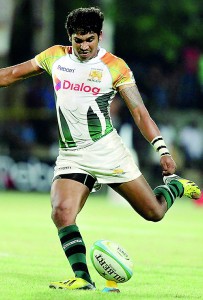 The letter from the IRB has prompted SLRFU to impose a provisional suspension on Hettiarachchi until the IRB complete the inquiry and issue an official verdict, confirmed Nalin de Silva, the spokesman for SLRFU.
"He (Hettiarachchi) has not been found guilty yet. The IRB has stated in a letter that he accused of taking a banned substance.Hettiarachchi will have to reply quickly to the IRB as the SLRFU will become a third party in this issue. It is clearly stated in the anti-doping clauses that the athlete is solely responsible for what he is," de Silva stated.
Adding another twist to the episode it was reported in local newspapers that Hettiarachchi, along with two of his unnamed team mates left the Racecourse ground soon after the game in a taxi not knowing that his name has been randomly picked for the test. The officers of Sri Lanka Anti Doping Agency (SLADA) were made to wait until 11.00pm, almost three hours since the end of the game, to summon Hettiarachchi to obtain a urine sample. Some were of the view that the player was intoxicated at that time. But a top official connected to SLADA told the Sunday Times that alcohol is not among the listed substances banned by WADA.
Hettiarachchi is now left with two options to clear his name from being found guilty. He holds the right to challenge the testing result by giving an acceptable explanation or he has the option of testing the 'B' sample in a laboratory recommended by the IRB, at his own expense. The third and final option he is left with is to admit and testify, where the IRB could be even set him free after a hearing. If found guilty, Hettiarachchi may be banned for a maximum period of two years from rugby related activity by the IRB.