Germany breaks France's hearts
View(s):

Germany broke French hearts for the third time in the World Cup when they triumphed 1-0 at the Maracana on Friday to become the first country to reach the semi-finals in four successive tournaments.

But, unlike the dramas of their memorable semi-final victories over France in Spain in 1982 and Mexico four years later, this success, secured by Mats Hummels' 13th minute header, lacked real excitement and was based more on solid defending and team work.

The goal came when Hummels, back in the side after illness, powered his effort in as he muscled French defender Raphael Varane out of the way with the ball flying into the net off the underside of French keeper Hugo Lloris's crossbar.

It proved to be the only goal of a match that never came to life as a spectacle, with both teams making mistakes and failing to take any of the rare chances that came their way.

France, who started the tournament so brightly with eight goals in two matches against Honduras and Switzerland, struggled to find much creativity in midfield and when they did produce a chance they were thwarted by Germany keeper Manuel Neuer.

However despite France's overall lack of punch in attack he did have to make three important saves – two in the first half from Mathieu Valbuena and Blaise Matuidi – and one in stoppage time when a reflex stop prevented Karim Benzema scoring with a 94th minute shot that would have taken the match into extra time.

The Germans though looked strong at the back with Hummels again a reassuring presence after missing the last 16 victory against Algeria and captain Philipp Lahm back in his usual right-back position after a change of tactics from coach Joachim Loew.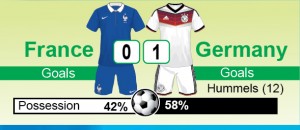 But like France they failed to impose themselves in midfield where both sides continually gave the ball away.
And while the German players and Loew described the match as a great victory, it was not a great spectacle for the 74,000 fans sweltering in the blazing hot sunshine.
Loew might have been watching a different match though as he told reporters: "It was an incredibly exciting match. But you can't expect anything other than that at the World Cup. Both teams were equal.
"The players are really wiped out now. The sun in the stadium, it was incredibly hot, it was an intensive match back and forth." He said moving Lahm back into his usual position of right back was nothing revolutionary either.
"The team wasn't surprised. The team knows I've got a variety of different lineup plans. I always said when I have the feeling that I need to set a new stimulus, I'll do it and the players know that," said the coach.