Brazil to clash with Germany in Semis
Brazil down Colombia
View(s):
A stunning free kick from Brazil's David Luiz sealed a 2-1 win over Colombia in a bruising World Cup quarter-final on Friday but the hosts will next face Germany without their talisman Neymar.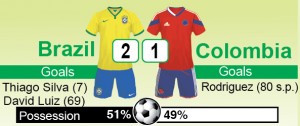 Brazil's victory came at a heavy price as their leading scorer was carried off in agony with a fractured vertebra late in the game and he will not play again in this World Cup.
Brazil will also be without their captain Thiago Silva for Tuesday's semi-final in Belo Horizonte. He was booked for an unnecessary challenge on the Colombian goalkeeper and will be suspended.
"I am emotional because I give the team my heart and soul," he said in a televised interview. "I am out the next game but Dante and Henrique can play well and fill my absence." Brazil's victory took them into the last four of the World Cup for the first time since 2002 and the 11th time overall as they bid for a sixth world title. Their clash against the Germans is a repeat of the final in 2002 which Brazil won 2-0.

"It will be a big game – a classic in world terms, and it will be very hard," Luiz said.
Colombia's defeat ended their spirited World Cup campaign and meant their midfield sensation James Rodriguez ended the tournament on six goals, the highest tally so far. He left the pitch in tears after being comforted by Luiz.
"I'm crying because we gave everything, We wanted to carry on, but we can hold our heads up high."Rodriguez said.
"Unfortunately the referee didn't help much. After their laboured win over Chile in the second round, Brazil needed a convincing performance in Fortaleza's Castelao arena and made a perfect start, scoring after seven minutes.
Neymar swung in a corner from the left and Silva took advantage of shocking Colombian marking to bundle the ball in at the far post.
That settled nerves and the Brazilians took control. Neymar was a constant threat on the left while the powerful running of Hulk kept the Colombian defence on the back foot.
But despite their dominance Brazil had to wait until the 69th minute to double their lead.
Rodriguez fouled Hulk and Luiz fired home a 30-metre free kick worthy of the great Brazilian deadball specialists of the past like Rivelino and Zico.
Colombia had a Mario Yepes effort ruled out for offside before Rodriguez dragged his side back into the match from the penalty spot with just over 10 minutes remaining.
Julio Cesar brought down Carlos Bacca as the Colombian striker headed goalwards and the Brazilian keeper was fortunate not to be sent off for a foul on the last man.
The Colombian goal made for an uncomfortable finale for the Brazilians but they held on, maintaining their remarkable record of never having lost a competitive home match since 1975.
Colombia have now failed to beat Brazil in their last 13 attempts in a run dating back to 1991.
"We're very sad because the dream is over," coach Jose Pekerman said.
Shocked by Neymar's loss
Champika Fernando reporting from Rio de Janeiro
As the final whistle blew hundreds of thousand Brazil fans — wearing yellow and green shirts — watching the match on a giant screen at Copacabana beach, a popular beach spot in Rio for revelers, screamed with joy as hosts made it to the semi-finals beating Colombia 2-1.
Brazilians, young and old were making merry to the Samba music at the massive beach front overlooking the famous statue of Christ the Redeemer, as they pray for a home-team victory in the 2014 edition of the FIFA World Cup, a title that has been elusive for the South American football giants since 2012.
"This is our World Cup," reverberates in everyone's mouth. "We are the Champions," they chant.
But an injury to their main striker Neymar Jr. in the quarter-final has left millions of football crazy Brazilians completely devastated ahead of their semi-final clash against Germany on Tuesday.
Neymar who had scored two goals each in their first round matches suffered a broken vertebra during the quarter-final tie and has been ruled out from the rest of the World Cup.
"Unfortunately, he's not going to be able to play," the team doctor, Rodrigo Lasmar broke the most disheartening news for Brazilians. "It's not easy news to give but the truth is he won't be available for the rest of the World Cup."
"The tests showed a fracture near the third vertebra. It won't need surgery but he needs to be immobilised to control the pain. He cannot play, a week will not be enough," Lasmar said.
22-year-old Neymar da Silva Santos Júnior, aka Neymar Jr., was carried on a stretcher off the pitch after he was caught from behind by Colombian defender Juan Zuniga during a tense game in Fortaleza.
Zuniga after the march told reporters that the tackle was not intentional. "I never meant to hurt the player. I was on the field, playing for the shirt of my country," he said.
The news was devastating for the sea of people who were partying all day and will surely ask divine intervention in their quest to win a record sixth title.
Add to their misery is missing their skipper Thiago Silva after he picked up a second yellow card of the tournament in a foul on Colombian goalkeeper David Ospina. Silva will not play in Tuesday's semi-final.
When Pele was kicked out of the 1966 World Cup in England, Brazil's hopes disappeared with him and with their best player out Brazil hope that this will not be the case this time.