Letters
View(s):

A lesson for all parents

I am writing this letter after considerable thought as I felt it our duty to share an experience that may well benefit other mothers with young children when placed in a similar predicament. Our granddaughter who was then 2 years and 7 months, had a slight temperature and vomited a few times on June 11, 2013. We showed her to her regular pediatrician (who is also very well known ) and he told us that it must be the flu and wanted us to do some tests and see him the following  Friday with the reports.

By Thursday the vomiting had stopped but diarrhoea set in  and the fever persisted. We saw the Dr. with the reports as requested on Friday evening. The dengue test mercifully was negative but he told us that she had a bacterial infection and put her on an antibiotic. The next  morning, Saturday, her fever went up to 103 degrees so we rushed her to him and he said it was best to ward her and put her on  the drip.

We admitted her to the nursing home that he recommended and she was immediately put on another very strong  antibiotic. Yet by evening she was looking pale and was very lethargic. We pointed this out to the nurses, and Sisters who came to see her and also the doctor. They all told us that it was due to the fever. On Monday morning when the Dr. came to see her our daughter told him that baby's palms and soles of her feet were almost white and her eyes were yellowish. He brushed it off saying again that it was due to the fever.

The same evening a doctor friend of our son-in-law dropped in to see baby and we believe that he was sent by God.  He looked at the reports and asked the nurses why the tests had not been repeated! They had no answer. He wanted us to ask our doctor to repeat the tests as he was not satisfied with what he saw in the reports. So when the doctor came to see her at 9 p.m. that day after his consultations and asked us what was worrying us my daughter repeated to him what their doctor friend had told both us and the nurses. His reply was "I did not want to just prick her but we will do the tests in the morning," still insisting that the paleness was due to the fever which had gone down by then.

When our daughter showed him a blood-stained pamper he said that it was nothing and the nurse commented that it was due to "hungry stools"!!! ……The reality was that baby had bled and was continuing to bleed. What do we do when the child specialist says this? Somehow we know God again intervened as the doctor had on leaving after his rounds instructed the nurses to repeat the tests immediately. It was now well after 10 p.m. They did the tests and as we were leaving the hospital we crossed the  doctor running up the stairs, telling us that the baby has to be rushed to the Lady Ridgeway Hospital as she urgently needed a blood transfusion. Her haemoglobin count which was 14 had dropped to 4!! It was now midnight!

This nursing home inspite of its historical significance had no ambulance service so we had to wait awhile and with the help of two doctor friends who came by managed to rush her to LRH, where on admission the doctors expressed disbelief that the child's  haemorrhaging

condition had not been detected earlier.

They promptly repeated all the tests and rushed her to emergency. There as soon as they inserted the catheter she only passed blood! They had to immediately give her blood transfusions and continued to keep her in emergency for five days till her urine cleared. She was then
transferred to Ward 3 for a few days and  was put on steroids and discharged.

We need to stress that the doctors, nurses and staff of Ward 3 at LRH were efficient, trained and well equipped to handle any situation. The Consultant of that ward was like another guardian  sent by God to save our little granddaughter, we have no words to thank them and continue

to pray for him and all members of his staff for their dedication and love for all the children brought in to that hospital inspite of the very trying working conditions and environment.

We were told subsequently that the cause of the hemorrhaging  was a drug that had been prescribed by the pediatrician initially.  That drug is known to have this side reaction sometimes and we were therefore very disappointed that its after effects were not monitored more closely.

Thanks to Dr. Devan Mendis in Ward 3 our granddaughter was led out of danger although even today almost eight months later she is still not quite the energetic bubbly child she was. Our experience has taught us that while overcrowding is a problem at the LRH, it has a widely experienced and dedicated team of doctors and nursing staff.

Every child faced with ill health deserves the best attention, and that without a doubt is readily seen at the Lady Ridgeway Hospital.
The doctors and nurses who took care of our little granddaughter will always be in our prayers not just for their dedication to our own but also to all children as we were able to see while our precious little baby was there.

Greatly relieved Grandparents
Via email

Viharamahadevi Park: Some shortcomings need attention

The reconstructed Viharamahadevi Park is a tranquil sight to anyone passing by. When illuminated at night, I have heard visitors commenting "Can't believe this is Colombo". At night I see families taking strolls without any fear because the park is well illuminated.
However, as a resident living close to the park and as a user of the park as a cyclist and a walker, I would like to point out some shortcomings which the planners have missed.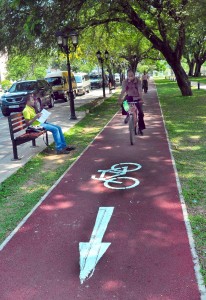 The cycle track is mistaken for a walker's path. There are not enough signs to show the joggers or walkers that it is not their track. If cyclists use the road in the park to avoid walkers on the same track, security officers ask them to get back to the track. However, they do not ask the walkers on the cycle track to use the walking path. Then there are big gaps on the cycle path at places where it crosses the road. The cyclist has to dismount and go to the next section.
At the Public Library end, the cycle track connects to the main road's pavement used by pedestrians. There should have been a connection to the next section which is only about 20-30 feet away within the park. This needs to be corrected because children use the cycle track.
Also the cycle track goes across the children's play area. This should have been avoided as children tend to run across. In contrast, the facilities at Independence Square are a shining example where joggers and walkers use their respective paths.
There should be dustbins at right places. The most polluted area in the park is the children's playground. I hardly see any environmental police officer here even on a crowded day. They should warn those who litter the park. The authorities must place more dustbins here and put up sign boards to encourage people to put their waste in the place provided.
Every morning I see these Civil Defence Force personnel doing an excellent job keeping the place spick and span. Kudos to the Defence Secretary for using their services for the betterment of society.
Finally a congratulatory note to the Mayor who despite many an obstacle seems to be doing  his best.
Hiran Weliwitigoda
Colombo 7
Why not wind power?
Sri Lanka has invested billions of rupees on the Norochcholai coal power plant. If this money had been spent on wind turbines we would have produced at least half the power that was supposed to have been generated by the coal power plant.
Unlike other power generators, there is hardly any running cost in wind turbines. The wind power generators should be placed on mountain tops where there are powerful winds throughout the year but not in coastal areas.
When I visited Hawaii, I saw hundreds of wind power generators on mountain-tops. It was a beautiful sight. Denmark is another country which generates 2,000 megawatts of wind power — the highest in the world.
I hope the President will look into this matter seriously.
A retired Telecom Engineer
Via email
Fifth column and the NPC
The Sunday Times editorial of February 16 refers to the Northern Provincial Council as a fifth column in the country.
The Oxford English Dictionary gives the meaning of 'fifth column' as follows: an organized group of people working secretly for the enemy within a country at war. This definition does not suit the Northern Provincial Council at all for the following reasons:
This country is not at war.
The Provincial Council is not working secretly.
The Provincial Council has openly declared its position in regard to the resolution to be brought before the UN Human Rights Council in Geneva.
They openly support an investigation at an international level into the gross violations of human rights.
There is no other way of seeing justice to the minorities.
I would state that it is a travesty of truth to paint the Northern Provincial Council as a fifth column. It exposes the utter communal nature of your paper.
T. Kumar
Jaffna
Reflection on reflectors
We were shocked and sad to note that six members of a family died on the "A9" Highway between Mankulam and Murukandy, purely on account of a lorry parked on the main highway, where there were no street lights. The driver of the ill-fated vehicle had not seen the parked lorry.
It is a normal requirement for a vehicle to have reflectors which help other road users to see it from a distance and avoid accidents.
When I was a student, I had a bicycle and I was charged as it did not have a reflector in the rear mudguard.  I wonder why these rules are not enforced. It is useless blaming each other when basic requirements are not complied with by vehicle users.
J.R.