A home for tradition
By Duvindi Illankoon
The ancient art of puppetry gets a new stage at the Dehiwela Puppet Art Museum
View(s):
In ancient times, messages and orders were communicated from one village to another by an ingenious method. Royal artisans would create a transportable replica of the king and this would be taken around; upon entry to each village the royal messengers would manipulate the king's hands and body with string, voicing the message so it sounded as if it were coming from the king himself.

Today, of course, we know this to be the art form of a puppeteer who works with inanimate objects, transforming them into animate, lively things by manipulation of both hand and voice. As one of the oldest forms of art dating back to about 3000 years, puppets have been used since the earliest of years to communicate the needs and wants of human societies or as is the case now, for simple entertainment. In Sri Lanka there are few places one can visit for a puppet show or even to just look at these strangely lifelike man-made creations but in Colombo the Traditional Puppet Art Museum in Dehiwala is the place to go.
Although the museum has been in existence since late 2006 it's just beginning to pick up pace as an attraction for both tourists and locals alike, says founder Sarath Abeygunawardana. A businessman by profession, Deshamanya Abeygunawardana was introduced to
the craft by a couple from Ambalangoda who worked for his family. "They had been telling us time and again that we must do something about the dying trade of the Sri Lankan puppeteer," says Mr. Abeygunawardana. "One day, my wife and I sat down for a show organised by the couple. We were fascinated." The colourful costumes, dialogue and tales of folklore instantly captured the imagination of the Abeygunawardanas who were moved to learn more about this ancient art form.
Sri Lankan puppet art is in a league of its own, largely due to the inherent folklore and tales of myth and legend the country is known for. Characters like Jasaya, Lenchina and Nonchi akka are famously and most frequently reinvented on the puppet stage, as are the stories of Kalagola and Dikthala and even Sirisangabo. We're told that Jathaka katha (Buddhist tales) have a great bearing on the creations of puppeteers who find it easier to give life to their characters in the form of beloved characters of folklore. Traditional puppeteers hail from around the country although many of them are now only to be found in Ambalangoda due to its puppet and ves muhunu (traditional mask) heritage along with Mirissa and Kandy, say the Abeygunawardanas.
In Sri Lanka puppet art is a dying trade, lament the duo. "There are only about 50 or so puppeteers that we know of," they say. "It's a shame. Who can blame them? There is not much money to be made
here as a puppeteer." They work with many of these puppeteers in obtaining puppets for their museum and also to perform at shows when necessary. "They're a shy people," says Mr. Abeygunawardana. "Maybe due to a lack of education they're very reticent." The puppeteers prefer to 'speak' from behind curtains and through the objects that they animate.
The museum is a beautifully maintained edifice of colourful puppetry; the entrance is flanked by a couple dressed in traditional saree and national, hands brought together in a welcome ayubowan, or vanakkam. A simple whitewashed corridor, bright and welcoming thanks to clever natural lighting, leads to smaller rooms on either side which house the different puppets. These are mostly arranged to depict tales such as that of the dwarfish Kalagola who married the lithe and beautiful Dikthala, the king Sirisangabo who sacrificed his head for the greater good and Ehelepola, whose entire family was massacred by the last king of Kandy for treason. The owners are determined to move beyond this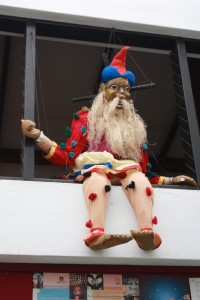 however; "You find the same tired old stories being told again and again with puppets," they share. "We want to modernize the craft and introduce some new tales."
It's the clever arrangement of these puppets that capture our attention-some are perched on the roof's beams, grinning down at you or in the midst of some comic ritual. There's a room full of ves muhunu that we are instantly drawn to; in different colours, sizes and makes they each have an interesting story behind them. These can even go for sale and if you need it the museum will create one for your own requirements.
The curators and owners of the museum have great plans for the country's puppet craft. Already, arrangements have been made to film a series of puppet stories for television-written by Somaweera Senanayake (who memorably scripted Doo Daruwo and Giraya amongst many) and directed by Thusitha De Silva. The show is produced by the Abeygunawardanas who are determined to make a name for the craft and museum. With the assistance and endorsement of the Ministry of Culture and the Arts, under the patronage of Minister T.B.Ekanayake and Professor Mudiyanse Dissanayake, they've made a name for themselves as the only such museum in the country and have represented Sri Lanka internationally at puppet conventions. "I rarely return with the puppets I take for these international shows," quips Mr. Abeygunawardana. "That's the demand Sri Lankan puppets have abroad. Shame people haven't realised that yet!" They hope to make these puppets a UNESCO heritage craft as well.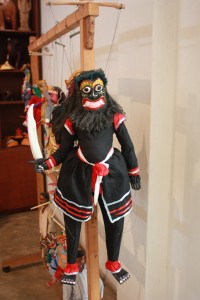 With this status the museum owners hope to expand their collection and more importantly, renovate their space to facilitate better conditions for the carefully constructed puppets. The land for the museum was donated by the government, while the building was revamped at a cost of Rs. 15 million by the Abeygunwardanas at their own expense. If they're able to raise enough funds they hope to add accommodation facilities for visiting puppeteers from outstation areas, and perhaps a new auditorium for their shows.
The stifling heat of a merciless Colombo daytime aside, the puppet museum is definitely a must go if you find yourself even the slightest bit fascinated by Sri Lanka's rich cultural history. Though inanimate when not being manipulated, the colourful puppets still fascinate with their rictus grins and traditional garb. Sujanthi from the office will assist you with any queries and if you call ahead you might even find a curator to take you through the exhibits. The museum offers shows (priced at Rs. 150 per person), and a wide range of publications on the craft. You could even arrange for lessons in puppet art. Or you could simply walk in (entrance is Rs. 50) and enjoy the colourful heritage and wonderful stories that these puppets tell of Sri Lankan folklore.
The Traditional Puppet Art Museum in Dehiwala (a few 100 metres away from the Dehiwala Zoo) is open on weekdays from 9 a.m. to 6.30 p.m. For inquiries call 011 2 714 241.
Puppet on a string and centre, the Ehelepola story retold.
Pix by Athula Devapriya