It was 'santhutti' all the way
Kala Korner
View(s):
What a rewarding experience it was!
Pradeep Ratnayake needs no introduction. He is the country's best sitarist. Last Sunday he was paying a tribute to Ravi Shankar, the world renowned sitar player who passed away a little over a year ago. Whether one could understand the intricacies of the 'ragas' or not (possibly most of us who filled the Lionel Wendt that evening were like me who enjoyed the music for what we heard and not the classical side!), Pradeep just gave us what we wanted. An evening of superlative entertainment.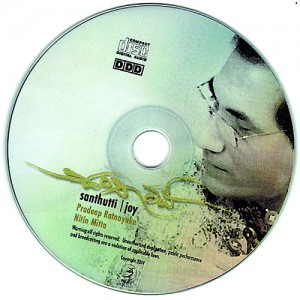 This was the 17th edition of Pradeepanjalee – the series of concerts he started in the late 1990s.Pradeepanjalee had been staged in several countries including USA, Australia, Belgium, Germany, India, Japan, Middle East, Switzerland and USA.
Even if one was not interested in the 'ragas', in her presentation of each item the compere explained clearly what Pradeep would play. This made sense for the audience could get an idea of what they would listen to. To give an example to show how meaningful it was, Pradeep started the programme with 'Raga Jogesshwari', a night raga composed and played by Ravi Shankar in 1979 in Dubrovanik in Croatia. The item was described as unaccompanied sitar in the three elements of Alap, Jod and Jhala – the alap being very serene and spiritual, the jod having rhythm and the last section being very fast to show the technical virtuosity of the performer.
Prdaeep then moved over to one of Ravi Shankar's favourite ragas – 'Rag MaadKanaj'.
What most of us could recollect was the third item – the theme music of 'Pather Panchali' – Satyajit Ray's famous film where Ravi Shankar was music director. The film as well as the music score became very popular with local audiences. That was way back in 1955. Harmony added on to it by Pradeep made it very lively.
'East meets West' based on 'Rag Peelu' was played by Ravi Shankar with world renowned violinist Yehudi -Menuhin in their Grammy Award winning album. Ananda Dabare, the highly accomplished violinist whom I had listened to from the days when he played as an amateur in one of the early concerts by Premasiri Khemadasa many years ago, was the ideal accompanist to Pradeep and they got a well-deserved lengthy cheer.
Pradeep also played the raga that Ravi Shankar had played at the three-day Monterey International Pop Festival in 1967 – considered the first widely promoted and heavily attended (an estimated 50 – 90,000) rock festival which led to many more of such festivals notably Woodstock two years later.
The evening of rich offerings concluded with a traditional Bengali folk melody – another of Shankar's favourites.
The concert also brought in two highly qualified and gifted artistes – flutist Sureka Amerasinghe and young tabla player Peshala Manoj to the limelight. We are bound to see more of them in the future concerts with Pradeep.
'Santhutti' (Joy), Pradeep's CD was recorded in USA during his Fulbright stint a few years back when he studied at Columbia University. It's beautiful to listen to, with music lovers like me not even realising that it's all classical music. That's Pradeep's secret.
Pradeep is accompanied on the tabla by Nittin Mitta acclaimed as one of the most accomplished and distinctive tabla players of his generation.
Let's hope the day will not be too far when Pradeep will put out the next CD with the music he played paying tribute to his mentor.