A book on a man who himself is a book!
View(s):

Pandit Amaradeva has been described as the voice that speaks to the soul of Sri Lanka, a voice that is the greatest musical instrument in the country. He is Sri Lanka's premier vocalist, violinist and composer. He has been experimenting, innovating, entertaining, taking the idiom of Sinhala Music into heights of achievement and expression.

Yet there is very little published on him or his work in English. Ideally English readers across the globe must have the opportunity to read about Amaradeva. In fact, any Sri Lankan who visits friends and relatives overseas tends to hear more Amaradeva songs there than at home. Now think of the children of those Sri Lankan families who are more fluent in English. They will never be able to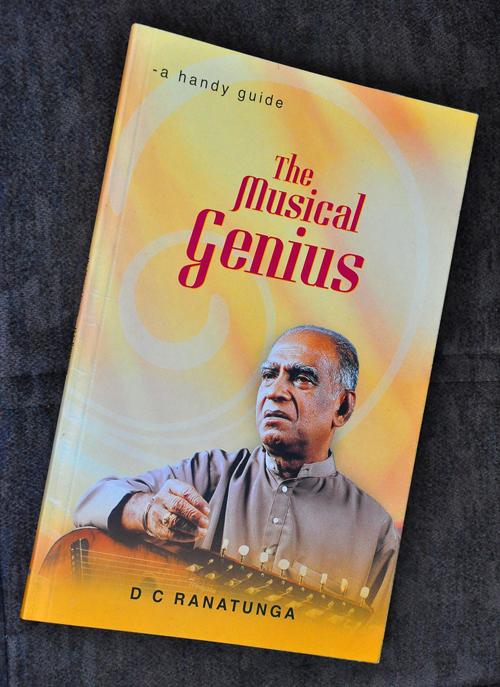 appreciate the unique contributions and the thinking of this great Sri Lankan. Recently, the veteran journalist, writer D.C. Ranatunga has attempted to fill this vacuum at least in a small way by adding Amaradeva to his Handy Guide book series published by Sarasavi Publishers, when he launched "The Musical Genius" on the 86th birthday of Maestro Amaradeva. It is a small booklet that takes the reader through the life of Amaradeva with various articles written by DCR over four decades.
In between the chapters he recaptures his reflections of Amaradeva with photographs that mark various milestones in the life of the maestro. He traces how Amaradeva, since he returned to Sri Lanka, experimented in order to discover a unique Sinhala music tradition. DCR had written about Amaradeva whenever the latter came up with new experiments, did tours overseas, won awards, or was recognised overseas.
Perhaps for the first time we get the opportunity to read one of the landmark scholarly articles written by Amaradeva himself under the title 'Sinhalese Music through the ages and its modern trends'. This is a rich treasure trove for anyone who is keen to study the evolution of Sinhala music. Musicologists of today will want to build on Amaradeva's research. This will be a guiding light to the modern day artistes who seek popularity but invest little time to study the tradition and the underlying principles. This article also brings out Amaradeva's clarity of thought, sharpness of observation and the selfless nature in recognising the contribution of others.
The book also contains the acceptance speech made by Amaradeva when he was presented with the Raymon Magsaysay Award where he expresses his philosophy of music by quoting Rabindranath Tagore: "The sign of greatness in great genius is his enormous capacity to borrow, mostly without him realising it. He has unlimited credit in the world market of culture. It is the mediocre who is afraid and ashamed of borrowing, for he cannot pay them back in his own coin".
Reading through the pages of 'The Musical Genius' by DCR one gets to see how Amaradeva has lived that philosophy to the fullest.
We should urge the writer and publishers to make this a collector's item by converting it into a hard cover full size publication with colour photographs for Amaradeva fans across the globe. It might be a good idea to release it as an e-book so a wider audience overseas will have better access to it.
Book facts
Amaradeva- the Musical Genius' by D.C. Ranatunga. Published by Sarasavi Books. Reviewed by Deepal Sooriyaarachchi