Appreciations
View(s):

Herbert Stanley Anthony

A dedicated Lion, he contributed much 

My association with Stanley Anthony started with Lionism. Lion Stanley was a Charter Member of the Lions Club of Ragama Welisara which was inaugurated in October 1976. As a founder member he served the club in many capacities. He was the club president from 1985-86 and being an active member of the club took part in social service programmes and other club activities with great dedication.
I had the chance to associate closely with him, when I was president of the club in 2002-2003 and he served as club secretary. He took a keen interest in preparing the monthly reports. Thanks to his efforts the club won several awards including the Most Outstanding Club in the district, the Most Outstanding President and the Most Outstanding Secretary of the district.
He and his wife Doreen extended warm hospitality whenever we visited them. We remember him as a lively conversationalist with a great sense of humour who was known to crack jokes and relate funny stories.
He was also very outspoken and not afraid to pinpoint the shortcomings of any person.
He led a simple family life. He was a very devoted Roman Catholic who helped the church.
We Lions have lost a dedicated and devoted Lion who contributed much to the club and to society.
Rest in peace dear Lionel, we shall not forget you.
M. Rose Fernando

Gamini Christopher Bernard Wijeyesinghe

Multi-faceted, multi-talented, he lived life to the full

'Veni, Vidi, Vici;' 'He came, he saw, he conquered', almost every wish he set out, he executed admittedly with divine inspiration from above, and aspiration from below.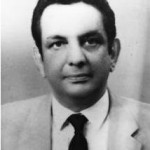 I like to reflect upon my father's life through some of his favourite quotes. One being 'Carpe Diem', (Seize the day), make the most of the opportunity, which epitomized his life. With Daddy life was for the living. He believed that 'life was a journey not a destination,' and what a journey it was, every moment to be cherished and relished along the way.
One of the earliest roles Daddy portrayed was in a kindergarten play, the character of 'Simple Simon' which not surprisingly depicted his character in real life. He liked to keep it simple. Few knew this side to him, which was not given to ostentation. Elegance and simplicity was his style.
Daddy believed that 'Anything worth doing was worth doing well'. Consequently, he had an impeccable work ethic and attendance record where he led by example, which was 'nulli-secundus' (second to none). He left for work at 7.30 a.m. Punctuality, he believed 'was not your convenience but the other man's convenience'. Motivated and conscientious to the end his workplace was his home away from home.
Of Daddy's academic achievements much has been well documented. He was educated at Royal College where he excelled in academics and sports, achieving colours in Athletics, Cricket and Tennis. His love for his old school was evident to the end.
He joined the then 'Ford Rhodes Thornton & Co' (now 'KPMG') in 1952, as an apprentice after leaving school at the age of 18. He qualified as a Chartered Accountant in 1957 with the distinction of achieving the first place in the island at the final examination. Daddy was made a Partner in 1964, subsequently Senior Partner, and Precedent Partner until his retirement in 2001. He was a Fellow of the 'Institute of Chartered Accountants of Sri Lanka', and the 'Association of Authorized Accountants UK', 'A Fulbright Scholar', and an alumnus of 'Ohio State' and 'Stanford' Universities of the USA.
He was a Past President of the Organization of Professional Associations, and the Institute of Chartered Accountants Sri Lanka. The ICASL, of which he was a member for over 50 years, awarded him a Life Time Achievement Award in 2009. He was a member of the External Audit Committee of the International Monetary Fund and led the Sri Lankan delegations to international forums such as the International Federation of Accountants among others. He was a Member of the Post Graduate Institutes of Management and Medicine Sri Lanka. The University of Sri Jayawardenapura conferred upon him the prestigious Doctorate-D. Litt (Honoris Causa). He was the first member in the history of the Institute of Chartered Accountants Sri Lanka to receive this honour.
One of his earlier accolades was a Fulbright scholarship in 1962 to Ohio State University in the USA. Ironically, his father achieved a scholarship for his prowess in journalism, while working for Reuters in 1969 and followed suit.
Daddy's childlike enthusiasm for life was both awesome and infectious- he was as multi-faceted as God makes them. His fascination was for religions, the arts, music, opera, theatre, sports, travel, food & wine to name but a few of the subjects he pursued with a passion. Erudite to the end his yearning for learning was all encompassing. Widely read, he was interesting to talk to and a good listener genuinely interested in what you had to say. He enjoyed mentoring the young, and not so young.
Listening to classical music was Daddy's relaxation. Beethoven, Chopin, Mozart, and Bach, were the composers of his choice and listening to Schubert's version of Bach's 'Ave Maria' he was often emotional. Daddy embraced his role as Governor of the Symphony Orchestra with enthusiasm.He was inspired by the literary masterpieces contained in the 'Complete Works of Shakespeare' and enjoyed using the quotations at his various public speaking assignments.
Naturally, Daddy loved Sri Lanka. Consequently he turned down many lucrative job offers overseas. He would sing along with pride to the Caribbean song 'Oh Island in the Sun'. His favourite however was the Irish song 'Galway Bay' which he would like to conclude with a patriotic twist, 'If there's going to be a life hereafter, and somehow I know there's going to be, I will ask my God to let me make my Heaven, in this dear land across the Indian Sea'.
He was inspired when listening to 'Dhanno Buddhunge'.
Daddy recognized he was blessed, consequently he poured forth his energy towards helping others. His generosity was spontaneous as it was anonymous. His compassion for the 'less fortunate' was not confined to the perceived lack of fortune alone, but of the unknown circumstances that creates the character of the individual. Consequently, he was less judgmental than most. His innate understanding and empathy resonated frequently in his public speaking with the quote, 'There but for the grace of God go I'.
Daddy was a devoted son, brother, husband, brother-in-law, father, and father-in-law but most of all a loyal friend. Friendship came naturally to him. He believed in 'malice towards none and charity towards all'. It was this 'lack of malicious intent' with which Daddy conducted his life that was his most endearing attribute. They say 'A man's deeds are his life'. Daddy's deeds in his lifetime were 'bona fide' (in good faith).
Till we meet again, Daddy you will be fondly remembered and sadly missed.
- Varini
Shanthi Muttukrishna
She had a natural flair for research 
It was an April morning some 25 years ago (1989) when a 23-year old Shanthi first tapped on my office door at Reading University and quietly and very politely introduced herself as my new PhD student from Sri Lanka, who had come to study Reproductive Endocrinology. I had been in post as a Lecturer for about five years at the time and Shanthi was to join the lab as my 4th PhD student.
Now, as many academics might admit, that first meeting with a new PhD student you have agreed to supervise for three years, but without ever having met previously, can be a source of some apprehension for the supervisor – and no doubt for the student as well! Questions run through your mind like: is this student going to be any good? Do they have a natural flair for lab work? Will they be hard-working and productive? Can they write well? Also very importantly, you wonder, will they integrate well into the lab and get on with the rest of the group? Perhaps last but not least, will WE get on?
Well I can safely say that, in Shanthi's case, she ticked all the boxes! Any anxieties I might have had before her arrival, were rapidly dispelled during that first meeting, and in the weeks that followed. Shanthi proved to be an absolute gem of a research student! From the outset, we had a very good rapport and although Shanthi was certainly quite a shy and reserved individual, she very soon integrated into the lab; she got on extremely well with other lab members and, in no time at all, had established herself as an indispensable member of my group.
We soon mapped out an outline plan for the direction her postgraduate research would follow. I had become particularly interested in a newly discovered ovarian hormone called inhibin, and had isolated the molecule from cow ovaries, as a step towards exploring its physiological role in regulating pituitary gland function. At the time we were probably the only group in Europe with our hands on purified inhibin. And so, Shanthi and I set about designing a series of culture experiments using sheep pituitary cells to examine its actions and interactions with steroids and other factors involved in regulating FSH and LH secretion that, in turn, control the ovaries and testes. Shanthi's pituitary cell culture experiments went very well indeed and, by the end of her first year, we had already published her first lead author paper in the Journal of Endocrinology (1990), with two more papers to follow in 1991 and 1992 while she was still a PhD student. This was quite an achievement and speaks volumes about her productivity and talent as a researcher that was to continue to blossom over the following years.
Now, I should point out that, although I had persuaded Shanthi to stay in Reading to work on the cattle project, I knew all along that her real interests were not in farm animal endocrinology, but in becoming involved in clinical research and human reproduction. So, in parallel with the cattle project we were meant to be focussing on at the time, Shanthi and I set about establishing further collaborations with various clinical colleagues around the country (including Andy Roberston in Manchester, Alan Templeton and Paul Fowler in Aberdeen, Nick Wald and Lynn George at Barts, London, Gill Lockwood, Oxford) to obtain clinical sample sets for analysis using the new inhibin assay. These collaborations generated several more first author papers for Shanthi. These included the first studies documenting serum inhibin-A secretion throughout normal human pregnancy (1995) and during IVF treatment cycles (1996).
In 1995, our collaboration with Nick Wald's group at St Bartholomew's, London, led to our 1996 paper reporting the discovery that maternal serum inhibin-A levels are raised in pregnancies affected by Down's Syndrome. Unbeknown to us, another group based in Edinburgh (Euan Wallace and colleagues) made the same discovery, at about the same time. From a scientific point of view, at least, this was very good news as it meant there was independent confirmation of the findings from two separate labs.
I suspect that Shanthi was actually the first researcher in the world to assay inhibin-A in maternal serum samples from Down's and control samples, and it's very gratifying to know that Shanthi's work at Reading, contributed so much to the subsequent widespread adoption of serum inhibin-A as an additional clinical screening marker for Down's pregnancies, now used extensively around the world in the so-called Quad Test.
So, to conclude, I would say that during her 'formative' research years at Reading, Shanthi had already made a fantastic contribution in quite a number of different areas. I can safely say that Shanthi stands out as one of the most – if not the most – talented, hardworking and productive researchers I have had the pleasure of working alongside. Shanthi had a natural flair for research, an outstanding work ethic, a wonderfully calm, modest yet cheerful personality and a quiet determination to succeed. I certainly look back on the six years or so Shanthi spent in my lab with very fond memories indeed. She will be greatly missed by family, friends and colleagues alike.
Prof. Philip (Phil) Knight, University of Reading, United Kingdom.