Avirate's big plans
View(s):

"These are designed to look good on everyone" is how CEO of Avirate Sri Lanka Asim Younoos introduced Avirate's latest innovation, 'Ponte Pants'.

Best described as a formal trouser-jeggin hybrid-'Ponte-Pants' the zipper-free, button free, light weight pants come in five different colours, "ideal for the travelling woman who needs to be comfortable, yet look professional at the same time" according to Asim.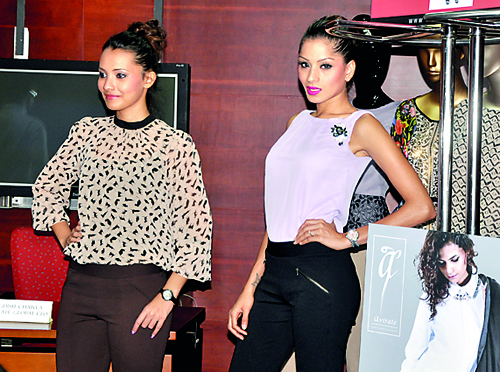 Taking all the advantages of a jeggin and coupling it with the formal look of a trouser affords the wearer a space-efficient, comfortable and versatile garment ideal for a travel wardrobe.
After sitting well on the ladies of Sri Lanka since 2010, Avirate has been a brand that has sought to go global. "Big names in the West are merging as we speak, but the opposite is seen in this part of the world," says Avirate's Global CEO, Jagdish Chawla.
Reaching out to the Indian clientele, Avirate discovered the quality and finish in the clothes stood out as opposed to the locally produced clothes. Understanding the needs of the clientele, Avirate's cocktail wear was expanded to include 'shapewear' in 2011 and still continues to expand including new avenues like corporate wear and even resort wear in the near future. Occupying stalls next to big brand names like Elle and Louis Vuitton in prominent malls "yet doing quite well" according to Jagdish only means Avirate has the potential to fit snugly into the global fashion scene.
Encouraged by the warm reception of the brand in India, plans are now underway to set-up shop in Canada by the end of this year. Discussions for an outlet down Singapore's famous Orchard Road are also on.
'Ponte- Pants' and the entire Spring-Summer Collection 2014 will hit stores this March.