Deshabandhu title for Manique
View(s):

Manique Gunaratne is known for her tireless work on promoting the rights of persons with disabilities. As Senior Trainer at the EFC's ICT Training Centre for the Visually Impaired she has successfully taught IT skills to hundreds of visually impaired students, with the aim of bettering their chances of employment. As Vice Chairperson for the South Asian Disability Forum, she travels the world addressing nations on the wants and needs of the disabled community. The fact that she is visually impaired herself does not hinder her resolve to build a more tolerant world in any way.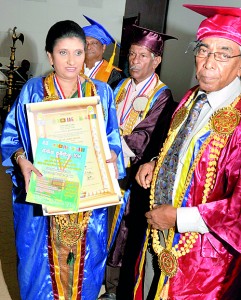 On February 15, Manique's work was acknowledged by the nation, as she was bestowed with the title of Keerthi Sri Lanka Bhimini Deshabandhu, the third highest national honour award in the country for meritorious service.
"I am really proud of my achievement. It's not sympathy that we expect from society but empathy. The service I do to the community has been recognised. This opens doors for more opportunities for persons with disabilities and persons with non-disabilities to break barriers and create a disabled friendly environment with dignity and justice for all," she said.
The loss of her sight when she was 30 years of age, led to this highly educated young lady losing a lot more than just a physical sense. As her world descended into darkness, she noticed people's attitudes towards her changing. But with her indomitable spirit she refused to accept being treated as a second class citizen.
Despite numerous rejections she remained resolute and eventually obtained a receptionist's job at the EFC. The EFC at this time was creating a Network amongst its members to empower persons with disabilities through employment. Feeling that it should walk its talk, the Federation was keen to have persons with disabilities in its own workforce. But, how would this woman be able to answer the phone? How would she take written messages and deal with visitors to the EFC? "Just give me a chance, Sir and I will not disappoint you", was her answer to the interviewer.
Thirteen years later Manique Gunaratne has progressed from receptionist to senior trainer at the EFC's ICT Training Centre and is a key member of the EFC's Network on Disability, working with employers who are members of the Network to place other disabled persons in jobs.
Commenting on Manique's honour, Director General Ravi Peiris said, "We at the EFC, are delighted and proud to have Manique with us. She brings into life the famous words of Sir Winston Churchill, "See opportunities in every difficulty rather than difficulties in every opportunity."