Sudden death on the tracks
View(s):

Authorities mull fitness test for athletes prior to indulging in strenuous 

By Kumudini Hettiarachchi

An 18-year-old, in the full bloom of youth, drops dead. While the "probable cause of death" of Hashini Anusha Kumari, a Grade 13 student of Rivisanda Central College, Aranayake on February 26 was issued yesterday, Education Minister Bandula Gunawardena said the relevant authorities are discussing whether all students who hope to take part in strenuous sports activity should undergo a fitness test.

There is a 2007 Education Ministry circular that all those taking part in marathons should undergo fitness screening, he said, pointing out that his ministry officials and those from the Sports and Health Ministries are discussing about extending it to cover all students taking part in strenuous and competitive sport activity. Explaining that students of the Mahinda Rajapaksa Model School at Homagama have 'Progress Reports' under the Physical Fitness Development Programme which has been implemented a year ago there, he said the ministry is considering the possibility of introducing such a programme to all schools in the country.

When asked whether parents would have to spend for the medical screening tests, he assured that such tests would be carried out by the closest government hospital.  While dispelling concerns that schools are pushing their students to take part in marathons etc., to raise funds, the Minister added that schools are only attempting to bring Sri Lanka to international level by encouraging such sports.

He said moves are also underway to improve the physical fitness of schoolchildren by having a 10-minute workout of light exercising before lessons begin every morning, starting with the new term in May.Hashini is not the only one to die on the sports field during a 5,000-metre race at her school's sports meet. Two others in Moratuwa and Chilaw recently collapsed and died during practices for a zonal sports meet and a cross-country run respectively.

Prof. Arjuna de Silva, Director-General of the Institute of Sports Medicine which comes under the Sports Ministry urged that it would be ideal if young athletes who take part in strenuous competitive sports could undergo a physical examination by a doctor and at least an ECG. "There would be no burden on their parents as this test is available even at peripheral hospitals," he said, adding "it is also a safe test".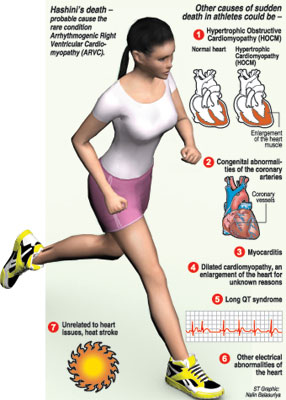 The Sunday Times, meanwhile, learns that the Post-Graduate Institute of Medicine (PGIM) has launched a one-year course for MBBS-qualified doctors to obtain a Diploma in Sports Medicine while a syllabus for a specialist-training programme in the same field is underway. "Two batches consisting of about 30 doctors have the Diploma in Sports Medicine now, while another batch of nine are undergoing the course currently," said Dr. Lalith Wijayaratne, PGIM's Chairperson of the Board of Study for this field, explaining that a specialist training programme is also being drawn up.
Several hospitals such as Kandy, Peradeniya, Kurunegala, Anuradhapura, Matara and Kalubowila have established Sports Medicine Units, said Dr. Wijayaratne, adding that the National Hospital of Colombo is in the process of doing so.
Rare heart condition the cause
Cardiac arrest due to an abnormal rapid rhythm in the heart due to a very rare condition is the probable cause of Hashini's death, said Kegalle's Consultant Judicial Medical Officer, Dr. S. D.Channa Perera, issuing an interim report yesterday (March 2). The rare condition is Arrhythmogenic Right Ventricular Cardiomyopathy (ARVC), he said, after studying 15 sections of the heart including those of the right and left sides and the walls of the heart.
ARVC occurs when some heart muscle cells are focally replaced with fatty cells and a little bit of fibrosis and extremely isolated lymphocytes, he said, explaining that usually, when lymphocytes infiltrate the myocardium, the result is myocarditis. But in Hashini's case the lymphocytes were extremely isolated and in a very few clusters. The ARVC compromised the normal conduction system of her heart, he added.
It would have been just another day for full-of-life Hashini, an exciting one as it was her school's sports meet and she was an athlete, the Sunday Times learns.
Referring to the other postmortem findings, he said that Hashini, a healthy 18-year-old had previously engaged in athletics as well as kabadi. On the day of the sports meet, she had eaten a rice meal at about 6 a.m., gone to school, warmed up and shared another rice meal with friends at about 9.30 a.m. It had been around 10.30 a.m. that she participated in the 5,000-metre race.
"But she had not run even 300 metres, slightly more than one round of the grounds, when she collapsed," said Dr. Perera, explaining that although in more than 80% of cases the cause of death can be determined during autopsies, in this case it was not possible.Internal changes were spotted with the naked eye during the postmortem but there were no gross findings to indicate the cause of death at that time, said the JMO, adding that water from the eyeball has been tested for blood serum electrolytes and sugar levels. Histological specimens were also taken of internal organs including the heart, brain, lungs, kidneys and liver.
"I have also obtained blood samples in case we need to get them checked by the Government Analyst," he added.When asked whether Hashini was malnourished, Dr. Perera replied in the negative, reiterating that she was slim, healthy and active.
With speculation that she may have got a heat stroke, with Sri Lanka experiencing the highest temperature of 35.5 degrees C around those days, the JMO said that it did not seem possible as the race was at around 10.30 a.m., when the sun was not that hot.
Cardiac arrest and preventive measures  
'Sudden cardiac death in young athletes' is not uncommon in other countries too but measures need to be taken to prevent them, said Consultant in Rheumatology & Sports Medicine Dr Harindu Wijesinghe, explaining that in the USA about 100 such deaths occur every year.
These deaths, according to research done in other countries, may be due to a loss of proper heart rhythm "causing the heart to quiver instead of pumping blood to the brain and body", he said, adding that it is called ventricular fibrillation (VF). 'MediScene', the health magazine of the Sunday Times recently highlighted not only sudden deaths due to cardiomyopathy but also the importance of screening athletes, in an interview with Consultant Cardiologist Dr. Gamini Galappatthy who is an advisor to the Sports Medicine Unit of the Sports Ministry.
According to Dr. Wijesinghe such sudden deaths may be caused by cardiovascular abnormalities and electrical diseases of the heart that go unnoticed. Quoting findings in the US, he says that the most common cause could be hypertrophic obstructive cardiomyopathy (HOCM), a genetic disease in which there is abnormal thickening of the heart muscle. This could lead to serious heart rhythm problems and blockages in the blood flow. This develops gradually over many years. Another likely cause could be congenital abnormalities of the coronary arteries where blood vessels are connected to the main blood vessel of the heart in an abnormal way.
Other diseases that may make a young athlete collapse may include myocarditis, an acute inflammation of the heart muscle usually due to a virus; dilated cardiomyopathy, an enlargement of the heart for unknown reasons; long QT syndrome; and other electrical abnormalities of the heart. Some of the warning signs, cautions Dr. Wijesinghe, are fainting, a seizure or convulsions during physical activity, dizziness or lightheadedness, especially during exertion, chest pains, at rest or during exertion and palpitations.
Meanwhile, another cause for a young athlete to collapse could be heat stroke, he says, citing the cases of an English cricketer and school rugby player last year. Luckily, both were attended to immediately and recovered.
Dr. Wijesinghe advises coaches to heed the danger signals and if an athlete complains of shortness of breath or chest pain, take him off the field immediately and rush him to hospital.  If after training for long hours without hydration, an athlete complains of cramps and feeling faint or dizzy, it may be signs of heat stroke, he says, adding that then too he should be taken out and cooled by using ice-packs held to the neck, armpits and groin and taken to hospital.
Whenever athletes are training or participating in competitive sports it would be ideal if a doctor is present, if not the coaches should at least be skilled at performing cardio-pulmonary resuscitation (CPR). There should also be a vehicle available to take any athlete who falls ill to hospital.  At the first sign of trouble, a young athlete must be compelled to stop, he urges, stressing that it should always be "life before sports".
Follow @timesonlinelk
comments powered by

Disqus