Long arm of the law gets twisted
View(s):

Ironically, it had to be police bail for the alleged attackers of a DIG's son and two police officers

For 27-year-old Asela Waidyalankara, an IT expert, and his wife Prathimi, the long weekend was most welcome for a much awaited getaway.  They checked into the Maalu Maalu, one of a string of new resorts that have sprung up along the Passikudah beach, an hour's drive from the eastern city of Batticaloa. Cut off during the separatist war, the area boasts of the shallowest waters around Sri Lanka. It is now a great attraction among tourists both local and foreign.

It was sunset when the couple, both wearing shorts, and accompanied by another couple staying at the same hotel, returned from an enjoyable boat ride, and decided to go for a stroll along the beach. Hardly had they started out, when the tranquility of their holiday abruptly came to a halt.Asela is the son of DIG Ravi Waidyalankara who had just been transferred from the Eastern Division, and his successor DIG V. Indra had not yet taken up the post due to ill-health, therefore the DIG did not join his son . The other party present was Daham Sirisena son of Health Minister Maithripala Sirisena and his friends.

According to Asela, when he and his wife started their stroll they saw a group of youth. One was naked and another was taking pictures of him. He feared that some of the frames may have included his wife Prathimi. He walked over to the cameraman and told him, "Machang don't do that. That is wrong." He asked the cameraman to show him the pictures, to delete them, if his wife was in them. The youth taking the pictures was Daham Sirisena, Asela said.

Others in Daham's group objected to showing the pictures asserting that Prathimi was not in them. An altercation ensued and Asela alleges that a group of 15 including Daham, assaulted him.

Asela was admitted to Batticaloa Hospital's Intensive Care Unit, and later transferred to a private nursing home, where he underwent an MRI scan. DIG Waidyalankara, who is also an Attorney-at-Law, declined to comment on the incident. "I am not authorised to speak. You will have to ask the Police spokesman," he told the Sunday Times.

At the private nursing home was a stream of visitors including retired top rung Police officials, but none were from the current crop, a source close to the family said.
Asela alleged that some of those who assaulted him were after liquor. Prathimi and her two friends, Asela said later, had pleaded with the group not to assault him.

They alleged that they sought the help of two policemen on duty, who were also assaulted and later admitted to the Valachchenai Hospital. On being informed, OIC Kalkudah Police Chief Inspector P.K.V. Samarasinghe rushed to the scene, while the assault was in full swing. He rescued Asela and took him in his jeep. Midway he transferred him to DIG Waidyalankara's vehicle and took him to hospital.

Thirteen suspects including Daham Sirisena were brought to Kalkudah Police Station. By then, Minister Sirisena had turned up, and protested that his son was being kept at the Police Station for over 12 hours, before being granted bail. They were produced before the area Additional Judicial Medical Officer (AJMO) who declared that none in the group were under the influence of liquor. Thereafter, the group was granted Police bail. Those in the group included a driver attached to the Health Ministry, an employee of the Transport Board and eight law students.

Newly appointed Police spokesman SSP E.M.H.B. Siriwardena defended the move to grant Police bail to the suspects saying that the decision was made after taking into consideration the condition of the injured person. "Bail is usually refused if the victim has serious injuries. This was only a fracas, and there were no serious injuries," he said. He added that two policemen too were injured. The case is to be taken up at the Valachchenai Magistrate Courts tomorrow.

Daham Sirisena declined to comment on the incident. However, his father, Health Minister Sirisena held a news conference at his private residence in Colombo on Wednesday. He described the incident as a 'minor clash' between two groups. "Whenever there is such an incident, each side makes its claim. For me, all children are the same. The legal process will take place. I have not interfered in the legal system," he said.

"I spoke to the DIG Waidyalankara. He told me that his son had been admitted to hospital. I visited Asela and spoke to him. I told the DIG, if my son was at fault, action could be taken against him. I observed that the DIG's son has had a previous injury. The DIG said he was being taken to Colombo to check whether the previous injury has aggravated. I offered transport by car or even provide an ambulance. But the DIG said he can take him in his vehicle. The DIG's son said he had no hatred against my son," he said.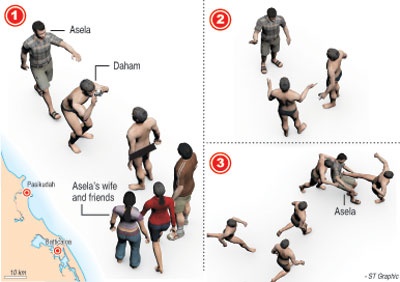 Follow @timesonlinelk
comments powered by

Disqus