Reducing trade deficit: Import less, export more
View(s):

The massive trade deficits of more than US$ 9 billion in the last two years brought out the fundamental flaws of the country's trade balance and the overall weaknesses of the economy. Such large trade deficits are strains on the balance of payments and on the country's reserves.It is imperative that we increase exports as well as curtail imports to contain the trade gap to such proportions.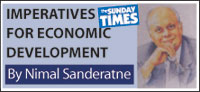 It would be difficult to bring down the trade deficit to manageable proportions without a two pronged strategy to increase exports and decrease imports. The objective is not easily achievable, but every policy option must be availed of to reduce the trade gap by about US$ 2 billion. The trade deficit should be reduced from last year's 9.3 billion to about US$ 7 billion — a gap that could be offset by workers' remittances, tourist earnings, other services and capital inflows.
Trade deficit
The huge trade deficits of the last two years brought out the fundamental weakness of the country's trade balance and the overall weaknesses of the economy. Last year's trade deficit of US$ 9.3 billion was only slightly lower than the massive deficit of US$ 9.7 billion in 2011. In both years the country imported about twice as much as it exported to leave this huge dent in the trade balance.
In 2012 export earnings of US$ 9.7 billion was less than one half (49 percent) of imports of US$ 19.7 billion.Similarly in 2011 import expenditure was US$ 20.3 billion, whereas export earnings at US$ 10.6 billion were a little over half (52 percent) the value of imports. A country that imports twice as much as it exports is on a dangerous path of economic instability and financial crisis. This fundamental disequilibrium in the trade balance has to be resolved to prevent an economic crisis. It is a tough task.
Challenging task
There are severe challenges in rectifying this fundamental weakness in the trading account. The year ahead is not one strewn with roses.There are difficulties in increasing exports in global conditions that are not conducive to increasing exports of the kinds of commodities Sri Lanka exports and international competition is severe. On the other hand, much of the country's imports are very much in the 'essential' category and cutting down such imports would increase consumer prices and cause hardships to people. A substantial reduction of investment goods imports is one possible means to avert a continuing huge trade deficit.
Reducing imports
After the depreciation of the rupee, higher tariffs and credit controls in early 2012, there was a curtailment of imports. Import expenditure fell by about US$ 1.2 billion or 5.8 percent last year. However, the decline in imports was inadequate to reduce the trade deficit by much as export earnings declined by a larger amount: US$ 1.8 billion.
While consumer imports declined by a significant 18 percent, intermediate imports decreased by 5.7 percent. In contrast, investment goods imports increased by 4.8 percent.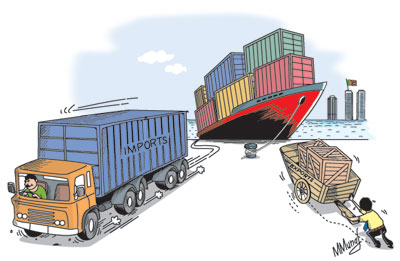 The continued increase in investment goods is a severe strain on the trade balance as these constitute nearly a fourth (24 percent) of the country's import bill. The other import that strains the trade balance is petroleum imports that account for 26 percent of last year's import expenditure. There have to be significant reduction of these imports to reduce import expenditure.
Exporting more
While there is a need to curtail imports further, it must be accompanied by a thrust to expand exports that have declined over a long period both as a proportion of GDP as well as a share of the country's world trade. The need to increase exports has been reiterated and recognised by everyone. Yet the country's export performance has been inadequate to meet the import requirements. Exports as a proportion of GDP have declined over the years and Sri Lanka's exports as a share of world exports has declined. Last year was particularly bad for exports. Both agricultural and industrial exports fell by 7.8 percent. The economic slowdown in the developed economies of the West is the main reason for the decline in manufactured exports. While this is undoubtedly correct, there is concern that the country's manufactures are perhaps losing competitiveness. This is especially so with respect of garment exports that account for about a third of total exports and for about 60 percent of the country's industrial exports. Last year garments exports declined by 4.8 percent and have had an adverse impact not only on the trade balance but also on industrial development and employment.
It is estimated that since 2005 about 180 garment factories have been closed down and that the loss in employment was in the region of about 700,000. The withdrawal of the GSP Plus concession in the European Union is significantly responsible for this decline. While the Government has shown a reluctance to begin fresh negotiations in Brussels to regain the GSP plus concession, there are reports of closed door discussions to regain it. Although every effort must be made to regain this concession, one cannot expect much owing to the human rights record that is being highlighted. Besides this the European economies are mostly in disarray and the potential for increasing exports there is not much.
Agricultural exports
The decreased earnings from tea were brought about by both an output decline owing to adverse weather conditions and the disruption to the tea trade owing to the US sanctions on Iran, the country's second largest export market and turmoil in Syria and other Middle Eastern countries. Whether these conditions would improve as the country's tea production regains lost ground this year is still uncertain.
The agricultural export strategy has to be more broad based than heavily dependent on tea exports that account for about 70 percent of agricultural exports in a normal year. The basic foundation for increased agricultural export increase is in generating export surpluses of a much larger amount in commodities that have an international market. There has to be extensive cultivation of such crops as cashew and fruits for export.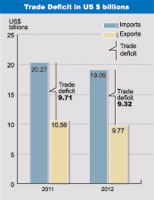 The opening up of the North and East now provides the opportunity for expanding production of exportable agricultural produce on large farms.Appropriate land policies and relevant modes of production are vital to achieve this.
The country's capacity to earn more from agricultural exports is dependent on diversifying into crops that have an international demand and increasing production and productivity of such agricultural crops. This is a long term solution to increasing agricultural exports.
Services
The export of services such as in information technology is definitely a potential source of export earnings. Yet to realise it there has to be a better broad based English language skills and much more quality information technology education. The pace of development is far too slow to make a significant impact in the next few years. However, this is a futuristic means of improving the country's trade and payments balance.
Final word
While resolving the current crisis in the trade balance would have to be mainly by curtailing imports and increasing traditional exports, it is important to have our sights on the future potential for increasing exports. The current crisis must be seen as a challenge to diversify and expand exports and export markets.
Follow @timesonlinelk
comments powered by

Disqus