Law students entering the Faculty of Professional Studies may now proceed to either take up the Law Entrance exam of the Sri Lanka Law College, or proceed to complete the Aquinas University College Diploma in Law and the London Chamber of Commerce and Industry International Qualifications, Legal Environment Level 4 paper and then proceed to a HND in Law, they may then complete their LLB from a recognized university .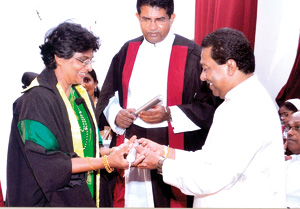 Pass with Merit- Dip. In Law Mrs. Kapugedara
The course is ideal for those interested in obtaining a knowledge of law for the purpose of carrying out their duties in several positions in business, government and charitable organisations. The practical assignment and exam based review system, ensures that students gain first-hand knowledge and information that builds up skill and confidence that is required in work, legal practice and higher studies. Aquinas College has built up a reputation for providing excellent training which makes the qualification one that is recognized as proof of a candidates' competence.
The first unit covers the requirements of the Law Entrance Exam and costs Rs 10, 000/-. The second module provides students with an insight into the English Legal System and covers the syllabus of the Legal Environment paper examined by LCCIIQ - UK. The cost of this module is Rs 20,000/-. The last module which covers such areas as the Law on Human Rights and issues relating to legislation for current social and business issues as well as procedures and practice of law. The final module costs Rs 20, 000/-.
Students are provided books and access to an on-location Cyber Station to conduct research. Consultation with the course director is available on specific weekdays, while tuition is provided on Saturdays from 2.30 p.m. to 5.30 p.m. Students are requested to register at the Aquinas College office before the 3rd November for classes commencing on 5th November 2011.