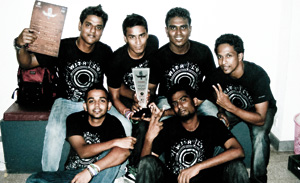 "TANTALIZE" is an Event which is organised by APIIT every year. This year marks the fourth consecutive year of TANTALIZE. The objective of tantalize is to provide University students in Sri Lanka exposure to the musical and dance talent. It brings together the students of both public and private universities. The main sponsor was APIIT LANKA (PVT) LTD. The official partner was Yamaha music centre. Media partners were MTV and Yes fm.
Tantalize 2011 was to be held on the 07th of October 2011 at Bishops College auditorium.
We the students of SLIIT participated in category of DANCE-GROUP competition. Initially they had an audition process and chose three teams for finals from nine teams. At the grand finale we got 1st place and got the title "interuniversity dancing champions".