An open career day was organized by the ACBT Student Council recently for the students of the college and was held with the purpose of giving students the opportunity of exploring prospects for employment in IT and business fields and to help them to progress in the desired direction of their career options.
The programme was held at ACBT and enabled participants to meet with corporate representatives face to face and discuss current issues pertaining to employment and career progression.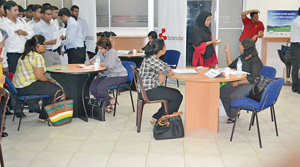 It provided the participating students, the chance to appreciate one's aptitude and personal traits which are important considerations in selecting one's career path. It also introduced the students to the many career opportunities available to them.
Several leading organization in the corporate world such as Fonterra, John Keells, Ceylon Tobacco, Nations Trust bank, Standard Chartered Bank, Brandix, MAS Active, Linea Aqua, Ecologital, Virtusa, and hSenid were present at this occasion and shortlisted students for permanent positions in their companies which ranged from Management Trainees to Assistant Managers of Departments, as well as offering internships. Internship programmes for suitable candidates. Internship programmes were for a period of three months, six months or one year depending on the nature of the internship offered.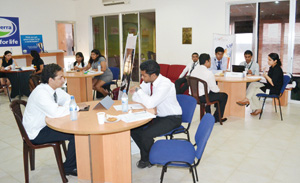 Some of these organizations rated ACBT students as 'the best lot of candidates interviewed' by them to date.The participating companies are frequent visitors to ACBT career days which are held every trimester. The proof of the caliber of the students is the return of these companies every trimester to tap into the ACBT talent pool
Participation of more than 200 students witnessed the success of this event.Positive feedback was also received from participating organizations, who viewed this event as a good recruitment opportunity.
As the undisputed leader in Australian education in Sri Lanka with a history spanning over 13 years, the Australian College of Business & Technology (ACBT) has evolved as the 'preferred choice' of those who aspire for globally accredited higher educational qualifications and isa part of the Navitas Group - an internationally renowned leader in global education.