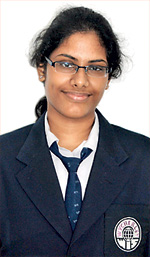 Vishmi Silva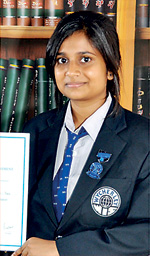 Teenuhansi Pathegama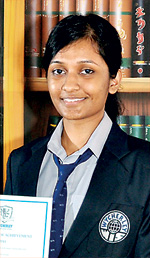 Poorni Yapa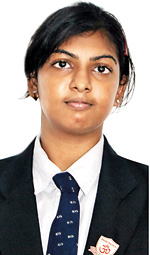 Keshni Sritharan
From the day of inception in 1985, Wycherley International School has been oriented in the direction of producing excellent academic results. This tradition of Excellence in Education has virtually been "The Spinal Column" of Wycherley. The school changed into the system of the Cambridge Ordinary Level Examination in 2004 and has produced excellent results to date.
We ventured into doing the Cambridge Advanced Level Examination in 2010 and our results have flagged our name and fame. We've had 100% success in most of the subjects we've done at the O/Level Examination and A/Level Examinations, while we've touched 80% and over in other subjects. Here's what we got in 2011 August - at a glance, of some of our students.
Based on the Cambridge O/Level results 2011, Wycherley is happy to award a full scholarship to Vishmi Silva and half scholarships to Tilanee Vijeyakumar , Zainab Ahmed and Nivetha Sivakumar.
Wycherley is proud of the fact that she has introduced the Cambridge Curriculum Programme which would increasingly enhance and benefit young children in achieving academic excellence, which we all desire.
Cambridge conducts Check Point Examinations at Grade 8 in the core subjects - English, Mathematics and Science. In English, the Check Point skills cover Reading, Writing and Usage. In Mathematics, it extends to Number, Algebra, Geometry, Handling Data, Problem Solving and Space. Science encompasses Biology, Chemistry, Physics and Scientific Enquiry. Check Point does not give a formal Certificate of qualifications although a Statement of Achievement is given. This enables students in making the most of the educational opportunities. Cambridge Check Point Tests are accepted all through the world for their high standard of assessment. It is a good indicator for the O/Level that will follow.
Cambridge Check Point is for students around 14 years of age. There are 2 papers in each subject, each approximately of 1 hour's duration. The idea is to enable them to experience an external examination. Results are given on Check Point Scores between 0.0 the weakest and 6.0 the best. The average score is between 3.0 and 4.0. These Check Point Scores are good predictors of student ratings.
Wycherley International School is the First Comprehensive CIE School in Sri Lanka; offering a total Cambridge experience from Primary to Secondary Levels. The 1st Check Point Examination for the students of Grade 8 was held on April 18th, 19th and 20th 2011. It was conducted strictly on Cambridge Examination lines with British Council expertise. Vinuri Hapuhinne, Madhara Iddamalgoda and Hisham Siddeek obtained the best results; their average score on all 3 subjects was 5.9 which speaks well for the high achievement of Wycherley. Wycherley offers a full Cambridge Curriculum from Year 1 (UKG) to Year 13 (Grade 12).
Cambridge conducts Check Point examinations at Grade 5 as well. This too covers English, English as a Second Language, Mathematics and Science for children of 5 - 11 years of age. It provides a solid foundation for later stages of education, developing skills, knowledge and understanding that will give them an easy transition into Secondary I. English as a second language helps competences in Speaking, Listening, Reading and Writing. The Primary Mathematics Curriculum is presented in 5 content areas ie. Number, Geometry, Measure, Handling Data and Problem solving.
The Primary Science Curriculum spans Scientific Inquiry, Biology, Chemistry and Physics . The tests are marked on the same scores as for the Grade 8 Check Point Examination, the best being 6.0 and the lowest 0.0. Wycherley Grade 5 students averaged above 55% in scores from 4.0 to 6.0. Getting an overall score of 6.0 in Mathematics were Thirushi Wijewickrama and Iesa Wazeer. Getting 6.0 scores in Science were Thirushi Wijewickrama and Dilan Rathubalage.
Cambridge Primary and Secondary One is an education programme which combines a world class curriculum, high quality support for teachers and integrated assessment, along with skills, knowledge and understanding to ready them into a smooth transition into Secondary 2 (O/L, A/L) and beyond. Wycherley is indeed happy and proud to be in this world class system. The great academic excellence at Wycherley is the flag that keeps flying in her name. We've done it over the past 25 years and we'll continue to do so.
Cambridge O/Level 2011
Results
9 A's with 8A * Vishmi Silva
7 A's with 5A * Tilanee Vijeyakumar
7 A's with 2A * Nivetha Sivakumar
Zainab Ahmed
6 A's with 4A* Kruthika Jaisanker
Sang Eon Ok
6 A's with 2A* Ascharya De Silva
Y.M. Amjad Khan
5 A's Nayanthara Fernando
4 A's with 2A* Sadiya Badurdeen
4 A's with 1A* Pasindu
Mannaperuma
Sanjaya Nipuna
4 A's Indusha Ravindran
Sajaad Mufallil
Athithan
Selvanayagam
A/Level 2011 A/S Level 2011
4 A's with 3A* Poorni Yapa 5 A's Keshni Sritharan
3 A's with 1A* Teenuhansi Pathegama 4 A's C. Aishvaran
Vishnu
Thiruchelvam Anuruddha Higgoda Sadra Jubair
3 A's Ishan Najumudeen Senomi Mendis